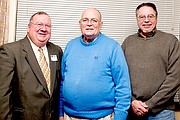 NASHVILLE - Scandal-ridden U.S. Rep. Scott DesJarlais on Monday was finally able to bring his Aug. 7 GOP primary election to a successful close after state Sen. Jim Tracy announced he won't challenge the razor-thin results and conceded defeat.
But with only a 38-vote victory, does this mean South Pittsburg physician DesJarlais has definitively put behind him a troubled past that includes having once urged a patient he slept with to get an abortion and threatening to commit suicide outside his first wife's bedroom?
Observers aren't so sure, noting the contest, in which Tracy only directly hammered DesJarlais about his turbulent past toward the end, still ended so close that the congressman's victory margin amounted to a minuscule fraction of 1 percent.
"Maybe he's going to get a free ride at this point," said Dr. Bruce Oppenheimer, a Vanderbilt University political science professor. "But my sense is there are ambitious people out there. And I suspect that Tracy won't be the last person" to challenge DesJarlais in a Republican primary.
The two-term 4th Congressional District congressman still faces Democrat Lenda Sherrell in the Nov. 4 election. Sherrell, a retired certified public accountant from Monteagle, faces an uphill battle in the GOP-leaning district, Oppenheimer, Republicans and some Democrats say.
Earlier on Monday, Tracy, a state senator from Shelbyville, said in a statement he opted not to go before the Tennessee Republican State Executive Committee to challenge the results. He noted that he informally had heard complaints but added a "recount does not uncover votes that were illegal or that were illegally kept from being cast. These factors weigh against a contest."
Tracy also said contesting the outcome before the GOP's State Executive Committee in its role as state primary board would put the party, state and local election officials, his family and the public through "additional weeks of litigation, with uncertainty as to who the nominee will be."
Meanwhile, two-term Congressman DesJarlais thanked GOP voters "for once again putting their faith in my ability to serve them; I promise I will never take that trust for granted. I am glad we can now come together as Republicans and start focusing on the general election in November."
Adam Nickas, a former executive director with the Tennessee Republican Party, noted that in early 2013, after much of the information about the DesJarlais' troubled past emerged in court documents released after the election, "every hack in the state would probably tell you that was the end of his career."
Most Republican operatives did as well.
But Nickas said after national media leaped on the race, he thinks a number of Republicans saw Tracy's use of the issue not so much as "an attack on his personal life but an attack on conservatives."
"It was a close race," Nickas said when asked whether DesJarlais' slender victory has made him immune to a future GOP primary challenged. "I think it's open to interpretation."
DesJarlais' past came up in his first campaign, a successful 2010 challenge to then-U.S. Rep. Lincoln Davis, D-Tenn. That involved his erratic behavior toward his then-wife during their 2000 divorce, including her charges that he "dry fired" a revolver outside her door and also threatened to commit suicide.
DesJarlais' campaign staff called the 2010 reports "all false." But under oath in the 2000 proceeding, documents released in late 2012 show the doctor admitting the suicide threat indeed occurred. He called it a "most immature form of attention-getting" and said he was "ashamed." He denied putting a gun in his mouth and said he never "dry fired" the gun, saying he only was spinning the gun's empty chamber.
In DesJarlais' 2012 race with state Sen. Eric Stewart, D-Winchester, a partial transcript of the conversation with the patient who said he had gotten her pregnant emerged. DesJarlais acknowledged it was real, but said he knew the woman wasn't pregnant and was simply trying to get her to acknowledge it.
He also told reporters he had not taped the conversation. Documents released after the election show he did tape it. They also showed he had conducted affairs with another patient and co-workers and that in his prior marriage he went along with his wife's decision to seek two abortions.
Tracy soft-peddled the disclosures during much of his nearly two-year quest, talking about "integrity" and saying DesJarlais couldn't be effective. Despite having a huge money advantage, Tracy only hit the issue square on as early voting approached with poll numbers showing the race much closer than anyone thought.
It was a turn-off to a number of voters who accepted DesJarlais' late 2012 comments that God had forgiven him and he hoped voters would do the same. Several told the Times Free Press they had done just that.
At the same time, DesJarlais' conservative voting record appealed to tea party groups and other staunch conservatives and he worked hard to portray Tracy as a moderate.
Moreover, Oppenheimer noted, DesJarlais announced late in the contest that he had cancer and was about to undergo treatment in Chattanooga, saying there is a very high success rate for the form of the disease that he has.
"I don't know what the effect of the cancer was," Oppenheimer said.
Bill Fletcher, a Democratic campaign consultant who worked on both Davis' and Stewart's efforts, said, "Tracy ran a terrible campaign. He was subtle and understated and subtlety is lost on the masses. ... No one knew what he was talking about."
He said the congressman "is always going to be vulnerable. Somebody will eventually get him."
"The good people in the 4th District are willing to give him a pass ... because he says he's been washed in the blood of the lamb and he's a different person," Fletcher added. "I don't think he is, and I think it's a matter of time until his true nature shows itself again."
At the same time, Fletcher said he thinks Sherrell has a difficult challenge in the 16-county district.
"She's a really nice lady and if she had $3 million to $5 million, she could beat DesJarlais," Fletcher said.
Contact staff writer Andy Sher at [email protected] or 615-255-0550.