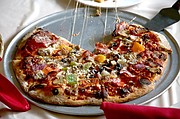 As more people choose to board buses, ride bicycles and use other forms of public transportation, Chattanooga transportation officials have identified key target areas in hopes of transforming the way people can travel in the Scenic City.
The big picture for Chattanooga includes building a multimodal transportation center, the modern version of the traditional train station, modeled after cities such as Memphis, Knoxville and Nashville and likely located downtown. The center would create a centralized location for public transportation.
But in order to improve the public's access to mass transit -- a category in which Chattanooga was listed last among the nation's top 100 metropolitan areas in a 2011 national study -- officials say they have to start smaller.
In the short term, officials plan to add three electric buses to the city's fleet, provide the technology for people to use GoogleMaps to plan their bus routes, and study how to add bus routes to the Enterprise South industrial park.
More than 5,000 people work at Enterprise South, and the lack of bus service to that area is considered to be an immediate need that could connect residents to their workplace.
A citywide transportation study headed by the Chattanooga Area Regional Transportation Authority began in January to identify short-, mid- and long-term goals for the city and examine all kinds of transportation options, including parking, car sharing, pedestrian accessibility, bicycle parking, taxi services and possible future rail service.
"We view this as a transformative process," said Philip Pugliese, the study coordinator with the Chattanooga-Hamilton County Regional Planning Agency. "Whether people are walking or driving their cars, what are the best ways to get there?"
The study, paid for through a $200,000 federal grant, is scheduled to be complete by the end of 2015, with a location picked out for the multimodal transportation center.
Chattanooga Mayor Andy Berke also points to the initiative that his newly created Transportation Department is spearheading to create a "complete streets" ordinance as part of improvements in transportation.
The ordinance expands the way officials look at roads, to include sidewalks, protected bicycle lanes and public transportation.
Nationwide, Americans are using more public transportation today than at any time since the 1950s, according to the American Public Transportation Association. In Chattanooga, bus ridership has slowly climbed after declining during the Great Recession that began in 2007.
Last year, CARTA tracked 1.8 million people using its 16 fixed routes. That's down a few hundred people from 2012, but an increase from 2009. Use of the free electric shuttle bus downtown also has increased, from 880,000 passengers in 2009 to about 913,500 in 2013.
CARTA Executive Director Lisa Maragnano said that within the study officials will examine CARTA's existing 16 bus routes and decide where to improve routes or create new ones. One of the immediate route changes will update the bus route to the airport that now stops at a stop sign before the airport terminal and forces riders to cross several lanes of traffic without a crosswalk.
The route now will stop closer to the airport and include a shelter, Maragnano said.
The plan also includes environmentally friendly electric buses that will be purchased with a federal grant for nearly $3 million to eventually replace three current buses. Officials also will have to install charging stations that could be included in the multimodal transportation center.
But for all the optimism that accompanied the Wednesday update by CARTA on the transportation study, some city officials say this new look at transportation has to be balanced with the need to fix potholes and repave city roads.
In Councilman Chip Henderson's district, which extends from Hixson to Lookout Valley, residents within the urban core are excited about the idea to expand travel alternatives, he said.
But residents in the more rural parts of the area have reservations and wonder if the money for road projects will be siphoned for sidewalks and bike lanes.
"Obviously it all comes down to money and how much money you have to allocate," Henderson said. "I've got to do a balancing act in my district to make sure everyone's needs are addressed."
The city's transportation director, Blythe Bailey, said the complete streets ordinance won't mandate that all roads fit certain requirements. Instead it will allow the city to treat roads differently depending on what they are used for.
Bailey said it will take at least six months to come up with guidelines for the different roads. That caused several City Council members this week to question whether the ordinance was premature. The City Council deferred the ordinance and will take it up next week.
Contact staff writer Joy Lukachick at jlukachick@timesfreepress.com or 423-757-6659.