Photo Gallery
July 16 shooting: Five months later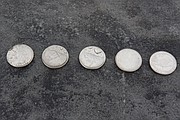 The shooter who attacked two military sites in Chattanooga on July 16 was inspired by a foreign terrorist organization, the director of the Federal Bureau of Investigation said today in a press conference in New York City.
"We've investigated Chattanooga from the beginning and we've concluded the Chattanooga killer was inspired by a foreign terrorist organization's propaganda," Director James Comey told reporters in New York.
Comey made the remarks to reporters in New York after the Associated Press and other media outlets pointed out inconsistencies between the FBI's handling of the Chattanooga shooting and other, seemingly similar cases.
On July 16, 24-year-old Mohammad Youssef Abdulazeez attacked two military sites in Chattanooga and killed five U.S. service members. The FBI initially hesitated to call the attack "terrorism."
While it took two days for the FBI to announce it was investigating the Dec. 2 San Bernardino attacks as an act of terror, it took five months after the killing of five military personnel in Chattanooga for authorities to use the same wording about the attack by a Kuwaiti-born gunman.
"It's often difficult to untangle which particular source - there is competing foreign terrorist poison out there," Comey said. "To my mind there is no doubt the Chattanooga shooter was inspired and motivated by foreign terrorist organization propaganda. We've investigated it from the beginning as a foreign terrorist case."
Hours after the FBI's announcement, the U.S. Navy said that the five men who died and the Marine who was injured in the will be awarded Purple Hearts.