Mohammad Youssef Abdulazeez grew up in a middle-class Hixson neighborhood, was on the wrestling team at Red Bank High School and graduated from the University of Tennessee at Chattanooga in 2012 with a degree in engineering. He interned at the Tennessee Valley Authority and broke his tailbone once during a jump into a swimming hole.
Today's coverage
* DesJarlais plans bill allowing qualified military personnel to carry sidearms at military installations* Nightmare for our city: Federal investigation vowed after four Marines killed * Community grieves, gathers for prayers in wake of tragedy * Timeline of terror in Chattanooga shootings * Cook: On a normal Thursday morning, everything changed * Tragedy will not define us, our city will heal * Shooting shatter's city's sense of innocence
Thursday's coverage
* Live updates * Sympathy for victims pours in following Chattanooga shootings * What we know about the shooter * Latest national updates on Chattanooga * Eyewitnesses recount moments of tragedy
Photo Gallery
Haunted House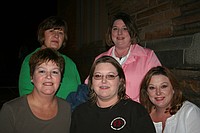 The annual EMOBA Haunted House is busy scaring people for 2 weeks out of the year...
Photo Gallery
'Nightmare for our city'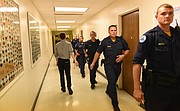 But on Thursday, all that normalcy abruptly crumbled.
Abdulazeez, 24, killed four U.S. Marines and wounded three other people when he opened fire on two military sites in Chattanooga, authorities said. He died in the attack, although investigators have not said whether he killed himself or was shot by Chattanooga police officers.
No one seems to have seen it coming. FBI officials said they had no warning of a pending attack. And his family and friends are baffled.
"They're nice people, you know?" said Elijah Wilkerson, a neighbor whose wife went on walks with Abdulazeez. "He must have just snapped."
"I never thought in a million years that it would be this guy," said Kagan Wagner, one of his high school classmates. "He was friendly, funny, kind."
In January 2014, when the big snowstorm hit Chattanooga, Wilkerson couldn't get home in his car, so he parked at a gas station on Hixson Pike and started to walk back to the Colonial Shores neighborhood, where he and Abdulazeez lived. As he was walking, Abdulazeez pulled up in a pickup truck and gave him a ride home, Wilkerson said.
When he heard about the shooting today, he couldn't stop thinking about that night.
"I just keep seeing his face," he said.
Abdulazeez's father, also named Youssuf Abdulazeez, works as a soil engineering specialist for the Chattanooga Public Works Department, city records show. A co-worker who asked to remain anonymous said he was a nice man, hardworking, never caused anyone any trouble.
The elder Abdulazeez has owned the family's house at 1902 Colonial Way Circle since 2001, according to Hamilton County property records. On Thursday, he did not return a call on his cellphone.
The younger Abdulazeez, who had lived in the Chattanooga area since he was in elementary school, has one incident on his criminal record. He was arrested by Chattanooga police on April 20 for driving under the influence after he was seen swerving while driving on M.L. King Boulevard around 2 a.m.
The arresting officer noted the smell of alcohol and marijuana, and said Abdulazeez had a white powdery substance around his nose, according to the arrest report.
Abdulazeez told police he had been around friends that night who'd been drinking and smoking. But he failed a sobriety test, was arrested and released on a $2,000 bond.
Court records show that's the only time Abdulazeez has been arrested in Hamilton County.
Still, Abdulazeez was not a troublemaker, said classmates from Red Bank High. They said he was well-liked and popular at the school, where he was on the wrestling team.
"He was honestly one of the funniest guy's I'd ever met," said Ryan Smith, a wrestling teammate. "I never saw a violent bone in his body, outside of the sport he was doing."
Smith helped carry Abdulazeez out of the woods when he broke his tailbone during a jump into a local swimming hole.
"He was one of the guys," he said.
Abdulazeez, a practicing Muslim, would sometimes get in trouble with the wrestling coach for fasting during the season because of the sport's strict weight requirements, Smith added.
Scott Schrader, one of the owners at Chattanooga Fight Factory who trained Abdulazeez in mixed martial arts, said the then-teenager would stop training every day at 6 p.m. to pray.
Investigators have referred to Thursday's shooting as an act of "domestic terrorism," but emphasized that Abdulazeez's motives are unknown.
The official Kuwait News Agency on Friday quoted the Interior Ministry as saying that while Abdulazeez was born in Kuwait, he was of Jordanian origin. The report also said he traveled to Kuwait and Jordan in the spring of 2010.
A U.S. official who was not authorized to discuss the case and spoke on condition of anonymity said that Abdulazeez was in Jordan last year for months, and that those travels and anyone he met with are being looked at as part of the terrorism investigation.
Bassam Issa, president of the Islamic Society of Greater Chattanooga, condemned the shooting in a statement Thursday, calling it an act of "cowardice and hate."
"At the Islamic Center of Greater Chattanooga, we don't see our community center as a 'Muslim community,'" he said. "We are Chattanoogans first, and we see ourselves as part of the larger community of Tennesseans grieving today's act."
Smith said he recently saw Abdulazeez working at cellphone kiosks in Northgate Mall and Hamilton Place Mall. He still can't believe Abdulazeez was the shooter.
Abdulazeez got an engineering degree from the University of Tennessee at Chattanooga in 2012 and worked as an intern a few years ago at the Tennessee Valley Authority, the federally owned utility that operates power plants and dams across the South.
He was conditionally hired as an engineer at the Perry nuclear power plant near Cleveland and spent 10 days there before he was let go in May 2013 because he failed a background check, said Todd Schneider, a FirstEnergy Corp. spokesman. Schneider would not say why.
"He worked in an administrative building," Schneider said. "He was never allowed in the protected area of the plant near the reactor."
In Abdulazeez's senior photo in a Red Bank yearbook, he sports a tux and smiles into the camera, clean shaven and without the beard he wore when arrested for DUI this year. Under is name is a senior quote, attributed to "Hijabman," an American-Pakistani activist.
"My name causes national security alerts," the quote reads. "What does yours do?"
Contact staff writer Shelly Bradbury at 423-757-6525 or sbradbury@timesfreepress.com with tips or story ideas. Staff writers Tyler Jett and Tim Omarzu contributed to this report.
Read more
Two of four Marines killed in Chattanooga identified Chattanooga shooting FAQ Who was Mohammad Youssef Abdulazeez? UTC students, local community mourn at prayer vigil Minute-by-minute coverage of the Chattanooga shooting that killed four Marines Chattanoogans reach out on Instagram after tragic shooting Timeline of terror in Chattanooga shootings Community grieves, gathers for prayers in wake of tragedy Nightmare for city: Federal investigation vowed after four Marines killed in shooting Sympathy for victims pours in following Chattanooga shootings Eyewitnesses recount moments of violent tragedy Latest national news on Chattanooga shootings: authorities searching gunman's computer Cook: On a normal Thursday morning, everything changed Tragedy will not define us, our city will heal Shooting shatter's city's sense of innocence