Photo Gallery
Puzzling out answers, pouring out grief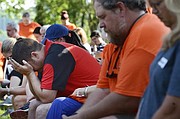 As painful as the Chattanooga shootings at two military facilities here have been, and despite the clamor sweeping the country to arm military recruiters and other service personnel working in peace-time jobs, our leaders should move slowly, if at all, to change the military's policy on guns in the workplace.
The military knows this, and agrees.
"We do not support arming all military personnel," Department of Defense spokesman Capt. Jeff Davis reiterated to national reporters on Wednesday.
And both the Marine Corps and the Navy have asked that citizens not bring guns or "stand guard" at recruiting offices.
"Our