Photo Gallery
Big Dam Bridge Walk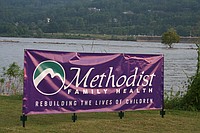 A walk benefiting Methodist Family Health held at the Big Dam Bridge on Friday, August 3.
The Scenic City lived up to its name: Chattanooga is a two-time winner of Outside magazine's Best Town title.
Chattanooga defeated Port Angeles, Wash., with more than 52 percent of the final round voting, winning by a 67,432-to-62,130 vote margin in a final round that almost consistently had it outpacing the tiny Northwest city.
Chattanooga has won the competition both times that Outside's editors have put it in the running since they started the contest five years ago. The first time was in 2011.
And the River City - yes, another nature-laden nickname - couldn't vie for accolades again until now. That's because the magazine instituted a three-year sidelining to any town that had won or been runner up.
Both cities saw a surge in local support to get the vote out, from social media campaigns to pushes from local businesses and tourism organizations.
At one point the surge got questionably high: an 8,000-vote spike in Port Angeles' favor during a one-hour period Saturday. That led to allegations of "robo-voting" or automated voting. Outside later added a "CAPTCHA" test, which requires a series of slightly distorted letters or numbers to be typed in order to ensure that a human is voting.
To reach the peak, Chattanooga beat Roanoke, Va., Raleigh-Durham, N.C., Beaufort, S.C., Boone, N.C. and Eau Claire, Wis. in earlier rounds. Wins and losses came directly from online public voting.
The contest started with 64 cities, 60 of them selected by the magazine's editors and four of them selected by online voters through an Instagram contest - Port Angeles among them, with just under 20,000 residents. Chattanooga, in comparison, has 170,000.
For the full story, read tomorrow's Times Free Press.
Contact staff writer Mitra Malek at mmalek@timesfreepress.com or 423-757-6406. Follow her on Twitter @MitraMalek.
Read more
* Final battle: Chattanooga duels Port Angeles for Outside magazine's Best Town Ever title * Greeson: Chattanooga moving along in Best Town Ever competition * Chattanooga or Port Angeles? Which will emerge as the 'Best Town Ever'? * Chattanooga moves into Best Town Ever semifinals * Chattanooga beats Boone in 'Best Town Ever' competition * Chattanooga clings to slim lead over Boone in Best Town Ever quarterfinals * Greeson opinion: Secret alliances and Twitter campaigns won't make Boone a better outdoor city than Chattanooga * BEAT BOONE: Gap narrows in vote for Best Town Ever * Chattanooga advances to final 8 in Best Town Ever contest * Chattanooga advances to quarterfinals in Outside magazine's Best Town Ever contest * Chattanooga competes for Outside magazine's 'Best Town in America' * Chattanooga back in the running for Outside magazine's Best Town in America * Chattanooga wins Facebook vote in Outside magazine's 'Best Town Ever' contest