The outside of a downtown Chattanooga office building was found graffitied with chalk outlines and slogans pertaining to the recently defeated Insure Tennessee bill Tuesday morning. Sen. Todd Gardenhire, R-Chattanooga, has an office in the building as a financial adviser with Morgan Stanley.
Many of the graffitied slogans were directed at Gardenhire, who incited ire among supporters of the bill as one of six Republican lawmakers with state-subsidized insurance to vote down the proposed Medicaid expansion last month.
Photo Gallery
Bowling For Rhinos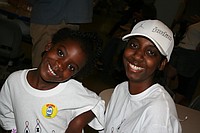 The Little Rock Zoo sponsored the Bowling for Rhinos event at the Millennium Bowl in Maumelle on Thursday, June 21
The building, at 820 Broad St., is owned by GenTech Construction LLC and the Maclellan Foundation. Gardenhire was in Nashville on legislative business when the graffiti was discovered. He voiced his disapproval of the act over the phone.
"There's no place for this," Gardenhire said. "People can agree or disagree, and that's fine, but when you deface property -- that isn't even mine -- to exploit me, that's something different. They might as well be in Nazi Germany, using tactics like this."
Gardenhire said the recent backlashes haven't changed how he feels about Insure Tennessee. He was previously named in protests by Mercy Junction, a ministry that operates the Justice and Peace Center in Chattanooga, including a staged "funeral procession."
"This hasn't changed how I feel about my vote," Gardenhire said. "I approached my vote based on reason and logic."
Calls to GenTech and the Maclellan Foundation couldn't confirm whether the vandalism had been cleaned up, or if the graffiti was more than chalk-based.
Contact Will Healey at times freepress.com or 423-757-6731.