Photo Gallery
Something's Brewing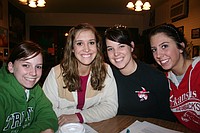 College students and others hang out at the Something's Brewing coffeehouse in Conway on Thursday night.
The death toll in the historic Gatlinburg fires has risen to 14, National Park Service spokeswoman Dana Soehn confirmed Sunday.
Elaine Brown, 81, of Sevierville, "sustained a medical event causing a multi-motor vehicle accident" on Wears Valley Road in Pigeon Forge while fleeing fires whipped up by 80 mph winds, Soehn said.
Officials now estimate 1,684 structures have been damaged or destroyed by the fires, and 134 people sustained injuries.
Read more from our news partner at knoxnews.com.