Photo Gallery
Belew Christmas @ Wildwood Park for the Arts — 12/13/13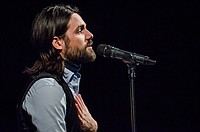 12/13 — Former The Voice contestant Cody Belew serenaded the audience with Christmas classics and tracks from his new album.
Two of the children injured in the Woodmore bus accident are still in Children's Hospital at Erlanger, more than three weeks after the fatal crash.
Both children are listed in fair condition, according to hospital spokeswoman Jennifer Homa.
The Nov. 21 accident left six children dead and injured more than a dozen others.
The bus driver, 24-year-old Johnthony Walker, faces six counts of vehicular homicide and one count each of reckless endangerment and reckless driving in connection with the crash on Talley Road.
Six lawsuits have been filed against the driver and his employer, Durham School Services, in connection with the crash.