Also Read
Industry experts warn of predatory law firms in wake of Woodmore bus tragedy
Two other women who lost children in accidents say the Witherspoon Law Group talked them into legal agreements but never delivered on their cases.
The day after her son died in a car accident in February, Kimberly Craft boarded a plane to Chicago to start his funeral arrangements. David Banks Jr., 26, was a baseball and basketball star who had mastered shoelaces at age 2. Now, she had to decide whether to cremate his body. At Heavenly Angels Funeral Home, where the estimated cost was $9,000, her stress only mounted.
"I was in tears when the [funeral] director came up and said, 'Well, I have a number for these people and they handle wrongful death claims,'" Craft said last week in a phone interview.
Craft called right there - and Alphonso McClendon picked up.
He said he was an attorney and that Heavenly Angels Funeral Home had the necessary paperwork for Witherspoon Law Group to handle the funeral costs, Craft said. Before they proceeded any further, McClendon suggested they pray.
Heavenly Angels did not return a call for comment.
"I was just thanking God because I didn't know how I was going to pay for anything," Craft said. "It took a lot of weight off of me and my family's shoulders."
That was before McClendon assigned her to a different attorney who rarely returned phone calls and sent updates about case developments, said Craft, who lives in Inglewood, Calif., and works at a Lexus dealership.
Photo Gallery
Belew Christmas @ Wildwood Park for the Arts — 12/13/13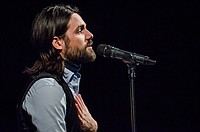 12/13 — Former The Voice contestant Cody Belew serenaded the audience with Christmas classics and tracks from his new album.
They never filed a wrongful death lawsuit together. And Craft, scrambling for answers in California, contacted several Michigan attorneys only to be told the same thing: "A lot of them couldn't touch it because I already had (Witherspoon)."
Attorney Nuru Witherspoon said he was "not even familiar" with Craft or her allegation.
An attorney for a Memphis woman says Witherspoon's firm persuaded her to sign an illegal contract when she didn't have the money for her son's funeral.
When her son was struck and killed by a car on Halloween, Marshe' Myers visited Signature Funeral Home, where an employee instructed her to call Witherspoon when she didn't have enough cash.
The funeral home did not return a call for comment. But in a complaint filed recently in Shelby County Chancery Court, attorney Jimmy Blount outlined his client's claims.
"Basically, [Witherspoon] has been soliciting beneficiaries of wrongful death victims through funeral homes," Blount said. "And until recently, I didn't realize how extensive and kind of commonplace this practice was."
After signing with Witherspoon, Myers was sent a purchasing agreement with Universal Funds, a corporation based in Pennsylvania. These agreements are often lifelines for people in crisis who need quick money to finance a lawsuit.
In this case, Universal Funds would receive about $13,600 of any possible recovery from her wrongful death lawsuit. But if the case took longer than six months to settle? Then Universal's share would increase by 34.5 percent for every three additional months due to interest, documents show.
Witherspoon never filed a wrongful death lawsuit in Myers' case, Blount said. He started to unravel the scheme, he said, after Myers approached him about representation.
Universal Funds had not registered with the Tennessee Secretary of State or paid a $50,000 bond, both necessary requirements for a business that wants to engage in litigation here. Last week, Blount said, he received a state certificate of "non-existence" proving that point. His goal now is to release Myers from the agreement, which he calls illegal.
"They're expected to be paid well for doing little to nothing," he said of Witherspoon. "And what they did do was wrongful to the client. What they did was got her involved in this agreement, which is illegal."
Nuru Witherspoon claimed that Blount actually solicited his client by getting involved in Myers' case, which his firm had almost resolved. He plans to file a motion to dismiss, he said.
Witherspoon said he has no personal or financial interest in Universal Funds. If a client decides to contact such a company, he said, that's up to them. He had no comment on whether his firm knew that Universal Funds wasn't properly registered in Tennessee.
"That's outside the scope of my representation," he said.
Contact staff writer Zack Peterson at zpeterson@timesfreepress.com or 423-757-6347. Follow on Twitter @zackpeterson918.