Photo Gallery
Haunted House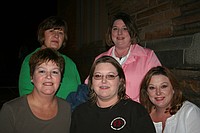 The annual EMOBA Haunted House is busy scaring people for 2 weeks out of the year...
Sept. 11 was a wake-up call to all of America that we were going to be fighting Islamist terrorism... when it hit home in Chattanooga, it was very personal.
NASHVILLE - A year ago this week - nearly 14 years after the Sept. 11 terror attacks shook America - Chattanooga got its own wake-up call from violent extremism.
And some state and national political and policy debates still reverberate from Mohammad Youssef Abdulazeez's July 16, 2015, attack on two U.S. military installations in Chattanooga that killed four U.S. Marines and a Navy sailor.
"I think it was, in fact, a wake-up call," U.S. Sen. Bob Corker, R-Tenn., said as city officials prepare this week to hold events to honor the memory of the slain, the survivors and the victims' families.
Corker, a former Chattanooga mayor who now chairs the Senate Foreign Relations Committee, referred to the Chattanooga attack and subsequent slayings - 14 people in San Bernardino, Calif., in December; last month's slaughter of 49 people in an Orlando nightclub, and other recent attacks across the globe - saying that "orchestrated by ISIS, some of them inspired by ISIS."
U.S. Rep. Chuck Fleischmann said that while "Sept. 11 was a wake-up call to all of America that we were going to be fighting Islamist terrorism... when it hit home in Chattanooga, it was very personal."
The assault last year left Chattanooga shocked and grieving, but the community immediately united, erecting memorials at the shooting sites as local, state and federal law investigators probed Abdulazeez's background and motivation.
At the same time, sometimes furious political and policy debates erupted nationally and, to a lesser degree, in Tennessee government.
Some issues have since been resolved.
Tennessee National Guard members with state-issued handgun carry permits, for example, can now go armed at recruiting centers and armories. Under an agreement with the Pentagon, specially trained personnel Guard members who work at federal air base installations can go armed here.
And some issues remain a work in progress. As of now, Marines and other U.S. military recruiters working in the Lee Highway joint recruiting center that was Abdulazeez's first target can't emulate the Guard and arm themselves.
But a Department of Defense spokesman told the Times Free Press last week that officials have "revised [the department's] arming policy to further specify commanders' authority to include use of privately owned and government weapons both on and off installations."
The revision is in the final stages of review and is expected to be published in the next few months, the official said.
Last year, Republicans repeatedly criticized Democratic President Barack Obama's reluctance to characterize the attack as Islamist terrorism. Abdulazeez, born in Kuwait, was a naturalized U.S. citizen and a Muslim. Family members and friends said the 24-year-old graduate of the University of Tennessee at Chattanooga had mental and substance-abuse problems.
Nationally, debate roiled about how to award Purple Hearts to the five slain service members. The medal is given to those wounded or killed while serving in combat zones or in terrorist attacks, and the Chattanooga attack initially wasn't classified as terrorism.
Fleischmann introduced legislation last year requiring Pentagon officials to award the medals. Then in December, FBI Director James Comey declared Abdulazeez "was inspired by a foreign terrorist organization's propaganda."
Just last month, the FBI revealed that some people close to Abdulazeez knew he had been radicalized by online al-Qaida propaganda a year before the attack, but they failed to alert authorities.
The connection allowed all five victims to be awarded posthumous medals. A Marine sergeant wounded in the Lee Highway attack also was awarded the honor.
The July attack also spurred debate about the security of state and U.S.-based federal military facilities.
Abdulazeez's first target was the Lee Highway joint military recruiting facility. He sprayed bullets into the glass storefronts, wounding Sgt. Demonte Cheeley. Then Abdulazeez sped to the U.S. Naval and Marine Reserve Center on Amnicola Highway.
There, he killed Marine Lance Cpl. Squire "Skip" Wells; Sgt. Carson Holmquist; Gunnery Sgt. Thomas Sullivan and Staff Sgt. David Wyatt. He shot Navy Petty Officer 2nd Class Randall Smith, who died later from his wounds.
As the heavily armed Abdulazeez stalked toward the reserve building, Navy Lt. Cmdr. Tim White used an unauthorized personal handgun to try to fend him off. Many people were angered over the possibility of White facing discipline for violating regulations, but no action was taken against the commander.
The reality that state and federal service members were working in largely unprotected military recruiting centers and not lawfully allowed to have sidearms, except at the discretion of their commanders, alarmed state and federal lawmakers.
Pressure mounted and several Republican governors declared their National Guard troops could go armed. In Tennessee, state Adjutant General Max Haston had concerns, as did federal officials.
For example, within 24 hours of the Chattanooga shooting, a Navy recruiter in Gainesville, Ga., accidentally shot himself in the leg. Workplace violence is a concern, Haston argued to the GOP-dominated General Assembly.
One Tennessee lawmaker who had served in Iraq said many in the military train on long guns, not pistols. In the end, Haston and his boss, Gov. Bill Haslam, agreed and changed the state's policy, working out the agreement with the U.S. military.
In Washington, U.S. Rep. Scott DesJarlais, whose district adjoins Fleischmann's Chattanooga district, introduced a bill directing the Pentagon to revisit and revise its policies on U.S. military members' ability to defend themselves.
The bill was worked into an appropriations measure and Department of Defense officials have been laboring over it - the Military Times called it "agonizing" - over the language since then.
Another issue involved the physical security of both state and U.S. military installations. There, Tennessee's Haston got some of the security upgrades he wanted for state armories and recruiting centers.
The state budget that took effect July 1 included $1.5 million for long-needed upgrades including communications equipment, fencing, barricades, locks and special film to prevent glass from shattering. While the state had been chipping away at the issue, the new funding was a boon, Haston said.
According to the Defense Department, $80.3 million was set aside this year to begin installing safety measures at federal recruiting facilities, and another $50 million each in the 2017 and 2018 fiscal years for a total of $180.3 million.
"It has probably saved lives," Haston said of the new state measures, some of which were carried out in the past year through existing funds. "If you want to look at goodness in something [from the attack], it's made many more aware."
Contact staff writer Andy Sher at asher@timesfreepress.com or 615-255-0550. Follow on Twitter @AndySher1.