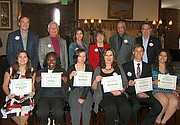 The Chattanooga Department of Transportation wants to launch a number of pedestrian-friendly improvements for East Martin Luther King Jr. Boulevard as soon as possible.
"[We] really want to get as much work done before school starts, given that there are over 700 students living in the neighborhood," CDOT Administrator Blythe Bailey told the City Council Tuesday afternoon.
The council will vote July 26 to authorize a number of easement agreements that will allow the department to conduct work on public spaces that do not fall within the city's right-of-way. The Campus Development Foundation of the University of Tennessee at Chattanooga owns the properties, located between the M.L. King Boulevard intersections with Georgia Avenue and Peeples Street.
The improvements plan will utilize a portion of an estimated $1.4 million city-wide right-of-way concrete construction services agreement, which the council also will consider on July 26.
Proposed "hardscape" changes call for repairing sections of deteriorated sidewalks, creating Americans with Disabilities Act-compliant corners and connecting gaps between stretches of sidewalks, Bailey said. Other amenities include stamped concrete crosswalks, additional street lighting and benches.
The eastern M.L. King Boulevard improvements fall within a wider plan to transform the entire M.L. King district, Bailey said.
Mayor Andy Berke has called the district renewal, which includes a makeover for Miller Park and an overhaul of Patten Parkway, a "once-in-a-generation investment" in Chattanooga's future.
The city plans to raise the sunken Miller Park up to street level as part of a $10 million public and private sector partnership.
An open lawn will dominate the elevated park and eliminate its current water feature. Other components include an amphitheater, a garden walk and a cafe pavilion.
Brick crosswalk pavers and other pedestrian elements will connect the park to Miller Plaza, Chattanooga capital planner Jenny Park said this spring.
The new park, scheduled to open in spring 2017, accounts for about $6.5 million of the M.L. King district makeover, Park said. The city will spend $2.8 million on the park's transformation, which would potentially require more than 70 percent of the funding to come from private sources.
The Patten Parkway plan calls for leveling the roadway with the median, which currently stands raised above street elevation. The changeover will allow flexible seating and market space in the area and incorporate an existing tree and World War II monument.
Contact staff writer Paul Leach at 423-757-6481 or [email protected] Follow on Twitter @pleach_tfp.