Photo Gallery
Alma Powell says CGLA defies the odds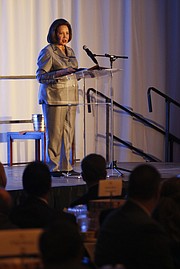 Chattanooga Girls Leadership Academy exemplifies what America's Promise Alliance wants to create for every young person in the country, said Alma Powell, wife of former secretary of state Colin Powell.
CGLA is a school where it doesn't matter from what struggles students come, because school administrators and a community of supporters have determined to help students overcome them, she said.
Powell commended CGLA and its 2016 graduating class Tuesday at the Young Women's Leadership Academy Foundation's seventh Odyssey Awards luncheon.
"Ladies, most of you here will go on to be the first in your families who attend college. Know the importance of this," Powell said. "As you succeed, you will change the trajectory of your lives, and not just your life, but the lives of every member of your family, your children and their children to come."
Powell