Photo Gallery
Fatal school bus crash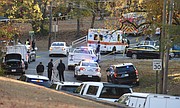 NASHVILLE - State Rep. Gerald McCormick, R-Chattanooga, said he will introduce a bill requiring all Tennessee school buses be equipped with seat belts in the wake of Monday's Hamilton County school bus tragedy that left at least five children dead and others injured.

"When I heard the news yesterday, I went ahead and called the attorneys and asked them to draft it up now," McCormick said. "It's been drafted before."

He said his intent is to require all current buses be retrofitted and that new buses come equipped with three-point safety belts.

School boards and school bus operators have previously opposed such legislation - a bill requiring new buses be equipped languished in this year's General Assembly despite a Knoxville school bus tragedy - but McCormick said he believes a measure will pass when lawmakers convene this year.

"I don't want to point fingers who was against it because of the expenses," McCormick said. "I'm sure it will be expensive. But I also know that particularly with the local school boards and their budgets. But this is an area where the state should certainly step in and help with the expenses and not [make local systems] shoulder the entire burden."

The lawmaker said that "unfortunately, sometimes it takes tragedies to change people's minds. Hopefully we'll all come together on this one to get this done. i understand financial considerations come into play, but again, it's a question of priorities.

"I think we'll have more people coming along. It's unfortunate it took a tragedy like this to focus attention on it but sometimes that's what it takes to wake people up."

McCormick said Tennessee's massive budget surpluses can help.

"There should be a one-time expenditure and it would be ongoing [expense] also. But it would be a one-time big expenditure. If you have the money, I can't think of a better place to put it for our children going to and from school," he added.
McCormick, who recently stepped down as House majority leader, said he has reached out to other Hamilton County legislators and believes they will be supportive.

He also said that because the crash occurred in Rep. JoAnne Favors' district, he has reached out to the Chattanooga Democrat and offered to let her carry the bill with his helping her push it through House committees.

McCormick said he cannot state with certainty whether seat belts would have helped in the Chattanooga crash on Talley Road.

"No, I don't know. But sometimes you have to look at commonsense. If the bus is rolling over, rather than having bodies flying, it would make better sense to have them strapped in. it's the same concept you have in a car. I think common sense tells us it would help more often than not."

The issue of school bus seat belts has long been debated at the state and national levels. Federal officials in years past have taken the position that the bus' seating provided adequate protection.

But last year, Dr. Mark Rosekind, administration of the National Highway Safety Administration, swung forcefully to the view that selt belts would help.

"The position of the National Highway Traffic Safety Administration is that seat belts save lives. That is true whether in a passenger car or in a big yellow bus," Rosekind told a conference in November 2015. "And saving lives is what we are about.

"So NHTSA's policy is that every child on every school bus should have a three-point seat belt. NHTSA will seek to use all the tools at our disposal to help achieve that goal, and today I want to launch a nationwide effort to get us there."