Photo Gallery
Fatal school bus crash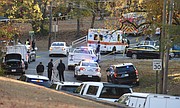 Im thankful. It's just hard with everybody else who wasn't as fortunate.
When 8-year-old Gezelle Champion got home from the hospital after the Talley Road bus crash, her parents washed countless flecks of glass from her hair.
They took down her braids and gently swept away the tiny sharp shards, grateful their daughter escaped Monday's bus crash with cuts, bruises and stitches, her father, Gene Champion, said. They spent Thanksgiving Day with family, resting.
"I'm thankful," he said. "It's just hard with everybody else who wasn't as fortunate."
Six students on the Woodmore Elementary school bus died after the crash. Police believe the school bus driver, Johnthony Walker, was speeding and have charged the 24-year-old man with six counts of vehicular homicide.
Thirty-seven students were riding the bus when it crashed, authorities said. Thirty-one were treated at local hospitals.
When Champion found Gezelle at Erlanger hospital after the crash, his daughter was still openly bleeding from a deep cut behind her ear. She was in a hospital room with another little girl; the pair stayed together throughout the rescue.
"She was very scared," Champion said. "She told me she didn't want to ride the bus anymore."
Gezelle told her father she was sitting alone in a seat near the middle of the bus. Just before the crash, the bus driver started going so fast that Gezelle was thrown down across the seat.
She was lying that way when the bus slammed into the tree. Her father wondered if that may have saved her life.
First responders pulled her out afterward, Champion said. He and Gezelle's mother waited about 45 minutes at the hospital before they were able to reunite with their daughter, he said.
The hospital was chaotic as parents searched for children.
"Probably the worst part was hearing all those other people just start crying," Champion said. "Every time it happened, you knew why they were hollering and crying. That was really rough."
Gezelle was scared during the first couple of days after the crash, he said.
"Right now she's coming back around," he said Thursday.
Hamilton County students will return to school from Thanksgiving break on Monday, and Champion is beginning to think about how to get Gezelle back to Woodmore Elementary.
"I'll probably drive her," he said.
Contact staff writer Shelly Bradbury at 423-757-6525 or sbradbury@timesfreepress.com with tips or story ideas. Follow @ShellyBradbury.