Photo Gallery
Belew Christmas @ Wildwood Park for the Arts — 12/13/13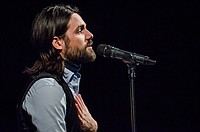 12/13 — Former The Voice contestant Cody Belew serenaded the audience with Christmas classics and tracks from his new album.
Zyanna Harris' second-grade teacher once asked her to write an essay about what she'd learned in school that year.
But Zyanna was mad at her teacher that day. So she marched up to Meredith Arp's desk and handed her a piece of paper with three words scrawled on it.
"Nope, not nothing."
Arp handed the assignment right back.
Now, two years later, she laughed as she remembered the moment.
"It just shows her personality," she said. "She wasn't going to take anything from anybody."
After leaving Arp's class, Zyanna grew into a spunky 10-year-old. She died Monday when the school bus she was riding swerved off the road and into a tree.
The fourth-grader was outgoing, funny and full of sass, friends said. And she always spoke her mind, said 13-year-old Tar'Dajah Rucker.
"If she got something to tell you, she ain't going to hold back," she said. "She ain't shy."
The last time Tar'Dajah saw her friend, they climbed on treadmills in a hotel and cranked the speed up, sprinting along until they tripped, fell and went flying off.
"We were just having a time," Tar'Dajah said.
Zyanna was one of those girls who made you laugh, Arp said.
"So much energy and life," she said. "You couldn't help but laugh at her and with her at the same time. She just didn't really care what people thought about her. She just lived her own little story, and if you thought she was funny, great. And if you didn't, great."
Zyanna was close friends with 9-year-old Zoie Nash, her mom, Misti Nash, said.
The pair loved to hang out, go to sleepovers together and dance. Zoie looked up to Zyanna like a big sister.
They'd ride the bus together, and sit together too.
After the crash, first responders found the two girls' bodies together, Nash said.
She shook her head.
"The thought of not seeing them two together again is just really breaking my heart," she said.