Photo Gallery
Faith, Family & Ducks! @ Jack Stephens Center — 01/18/14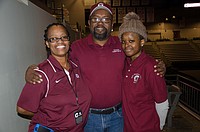 01/18 — Willie and Korie Robertson of the A&E reality TV sensation Duck Dynasty and the Duck Commander company made an appearance for a fundraiser for the Spark of Life Foundation, which offers grief recovery retreats to those who have experienced loss.


View Our Coverage of the Deadly November 2016 Storms
A husband and wife were killed during overnight storms in Polk County and two others were injured, according to the Tennessee Emergency Management Agency.
The Ocoee area was hit by a "devastating tornado," according to West Polk County Volunteer Fire and Rescue.
Between 40 and 50 structures have been heavily damaged or destroyed along a 2.5 mile stretch of Highway 411 south of Highway 64, said Stephen Lofty, Polk County EMA director and West Polk Fire Chief.
The West Polk Volunteer Fire station was destroyed, along with two nearby structures, Lofty said.
He could not give a dollar estimate of damages or identify the two people who died.
He said authorities have checked the remaining damaged homes and verified that residents are OK.
Polk County High School has been opened as a shelter.
STORM DAMAGE, INJURIES AND FATALITIES
Fatalities Polk County - Two killed; severe structural damage Injuries McMinn County - up to 23 injured; collapsed structures Marion County - Three injured; collapsed structures Structural damage only; No injuries or fatalities Bedford County Bradley County Coffee County Franklin County Sequatchie County Source: Tennessee Emergency Management Agency