Photo Gallery
Wiedmer: Turner Field's last Braves day a great one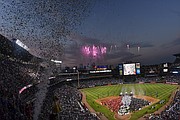 Photo Gallery
Puzzles for 12.19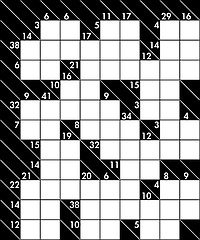 Turner Fieldby the numbers
› First game: April 4, 1997› Last game: Oct. 2, 2016› Braves' regular-season record: 951-668› Braves' postseason record: 15-23› NL East championships: 10 (1997-2005, 2013)› All-Star Game: 2000› Total attendance (regular season): 52,439,513› Largest attendance (season): 3,464,488 (1997)Smallest season attendance: 2,001,392 (2015)Largest crowd: 54,296 (Oct. 2, 2010 vs. Philadelphia)Smallest crowd: 12,595 (April 29, 2015 vs. Washington)No-hitters: Three — Arizona's Randy Johnson, May 18, 2004, perfect game; Colorado's Ubaldo Jimenez, April 17, 2010; Philadelphia's Cole Hamels, Jake Diekman, Ken Giles and Jonathan Papelbon, Sept. 1, 2014.Retired Numbers: Greg Maddux (31), Tom Glavine (47), Bobby Cox (6), John Smoltz (29) and Chipper Jones (10).Source: The Associated Press
ATLANTA - Hall of Fame pitcher John Smoltz stood outside the Atlanta Braves' locker room inside Turner Field early Sunday afternoon, reflecting back on the grossly underappreciated stadium's 20 years of baseball.
Asked if he ever envisioned the club leaving the grand palace on Atlanta's south side so soon, he smiled a tiny smile and said simply, "No, I didn't."
Yet that's exactly what happened at precisely 6 p.m. Sunday evening. Atlanta reliever Jim Johnson - he of the two-year contract signed earlier in the day - struck out Justin Upton, a former Brave, to wrap up a 1-0 victory and send the club off to its new home at SunTrust Park near the busy corner of I-75 and I-285 just north of town.
What took place after that final out may say as much or more about the Big Peach's love for the tasteful brick, concrete and steel structure as any of the memorable moments that took place there from the day the former 1996 Olympics track and field stadium became a ballpark in April 1997.
Until a few minutes past 7:30 - the sun having all but set on a perfect early autumn day, fireworks about to light up a darkening sky, confetti floating like snowflakes onto the field and lower level - much of the sellout crowd of 51,220 remained in the stands, eagerly awaiting (by video, of course) all-time Braves great Hank Aaron placing the home plate he'd removed from Turner Field at approximately 6:30 into the SunTrust Park diamond 50 minutes later.
Said Hall of Fame pitcher and Braves broadcaster Don Sutton of that scene, words that may best sum up what is still the Deep South's only MLB team: "Here in the South, we can't agree on Georgia or Georgia Tech, ACC or SEC, but we all love the Braves."
Ronny Raymond of Columbus, Ga., and his sons Tyler (17) and Jacob (11) certainly do. They arrived at The Ted - as it was somewhat affectionately known for former owner Ted Turner - more than two hours prior to first pitch in hopes of having former Braves greats sign some baseballs they'd brought.
"We got Dale Murphy's about 10 minutes ago," Ronny said at 1:20. "We got Timothy Miller's, too."
Miller is the opera singer who so beautifully delivers "God Bless America" during the seventh inning of most every Sunday home game, as well as spectacularly singing the national anthem this time.
During the 20 years the Ted was open, Raymond estimated he saw about 100 games. Son Tyler - a promising 126-pound wrestler at Columbus's Hardaway High School - counted as one of his favorite moments at Turner, "The day I met (politician) Newt Gingrich."
For most Georgians, the state's ultimate politician will always be former President Jimmy Carter, who probably drew the loudest cheer of the afternoon when he lovingly kissed his bride of 70 years, Rosalynn, during the kiss-cam segment in the middle of the fourth inning.
Spotted riding on the back of a golf cart after the game, Carter smiled wide, gave a thumbs up to cheering fans and yelled, "Great day."
It has been a great run, even if many would argue it's a run that shouldn't be ending. It has especially upset the citizens of Cobb County, which delivered $400 million in public funding to help construct SunTrust Park without the electorate voting on the decision. Those voters soundly defeated Cobb County chairman Tim Lee in his re-election bid, but by then the damage was done if you believe that $400 million could have been better spent other ways, such as on education.
Still, Sunday wasn't about referendums so much as reminiscing about the Braves' heyday, even if the apex of that heyday took place in since-demolished Atlanta-Fulton County Stadium two years before the Ted opened, with the Braves winning their lone World Series title since moving to Atlanta in 1966.
"There's some remorse," said Greta Loving, who has worked in security at Turner Field since it first opened and expects to continue her job at SunTrust Park. "But we're going to another level. There are all good memories here."
Chattanooga native Michael Smith has run press box security at Turner Field for 16 years. His best memory is the first game hosted by Turner Field after 9/11, a game against the Mets.
"What happened to the nation was gut-wrenching, but seeing everyone so united afterward was unforgettable," Smith said. "They printed a special T-shirt for that first night back, and I got the (late Braves broadcaster) Skip Caray to sign it."
Thanks to the University of Tennessee's miraculous football win over Georgia on Saturday, Skip's son, Chip, fattened Smith's wallet a bit.
"Chip went to UGA," Smith said. "We had a $5 bet on the game, and thanks to Jauan Jennings, I won."
Raymond would tell you that Turner made a lot of parents the biggest winners. Asked his favorite memory, he quickly said, "Just bringing my kids here."
But the Braves weren't content to let the fireworks, or having their three Hall of Fame pitchers - Tom Glavine, Greg Maddux and Smoltz - throw out ceremonial first pitches, wrap up these past 20 years.
Instead, starting pitcher Julio Teheran struck out 12 Detroit batters, Freddie Freeman drove in the winning run and the rebuilding Braves, though awful for the first half of the season, won 12 of their final 14 games.
Said Freeman afterward, "A lot of people didn't want to play us at the end."
And judging from the staying power of Sunday's crowd, a lot of people didn't want to say goodbye to the Ted.
But at least it closed its service to the Braves on a happy note.
Or as interim manager Brian Snitker noted, "This was a great way to put the old lady to bed."
Contact Mark Wiedmer at mwiedmer@timesfreepress.com.