Photo Gallery
Man shot on South Kelly Street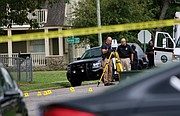 A man shot on South Kelly Street on Aug. 14 has succumbed to his injuries.
The victim, 33-year-old Langdon Strickland, was shot on the 500 block of South Kelly Street just before 1:30 p.m.
A neighbor saw the shooting and said a Jeep came to a stop and someone fired 10 or 11 shots.
The Violent Crimes Bureau is investigating the Monday shooting, and police ask anyone with information to call 423-698-2525.