Photo Gallery
Trump to name majority of TVA board this year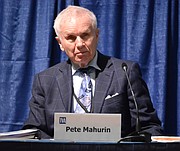 One third of the board that governs the Tennessee Valley Authority is being vacated today after the Republican-controlled Senate failed last year to confirm President Barack Obama's reappointment of three Democratic directors for America's biggest government-owned utility.
TVA Chairman Joe Ritch and the chairmen of two key board committees, Peter Mahurin and Mike McWherter, leave the TVA board today after they helped revamp the leadership and generation mix of TVA over the past five years.
Although major customer groups and even Tennessee's Republican senators said they support the current direction of TVA, incoming President Donald Trump will soon have a chance to name new directors for TVA who could reshape the federal agency created as part of President Roosevelt's New Deal in 1933. Combined with two additional board vacancies this year, Trump could appoint a majority of the nine-member TVA board as soon as May 18.
Trump did not speak about TVA during his presidential campaign last year, but he has pledged to reform how government works and repeatedly promised on the campaign trail he would revive America's coal industry by changing some regulations on fossil fuels. Trump could try to use TVA to help promote more coal generation or to promote other federal energy policies.
Economist Leonard S. Hyman has even suggested that the Trump administration might try to privatize the Tennessee Valley Authority.
"Many "new hires" in the (Trump) administration appear to favor increased privatization of public services," Hyman wrote in an article on "Will Trump Privatize TVA for $20 billion?" on the web site OilPrice.com. "Given that the private sector also does a god job providing electricity, it raises the question, "Do we still need the TVA?'"
Trump also has nominated former Texas Gov. Rick Perry to head the U.S. Department of Energy, which spends more than $3 billion a year on nuclear weapons facilities and energy research at Y-12 and the Oak Ridge National Laboratory in East Tennessee. Perry has previously advocated abolishing the Department of Energy.
Trump, who has vowed to "drain the swamp" in the federal government, could reshape the two biggest federal agencies in Tennessee. But the state's GOP senators said they are hopeful that Oak Ridge and TVA will continue to play key roles in the region's economy and national security and research.
U.S. Sens. Bob Corker and Lamar Alexander, Tennessee Republicans who voted to confirm the previous TVA board members appointed by Obama, both said they expect to work with the new Trump administration to ensure continuity in funding and leadership for both TVA and DOE facilities in Oak Ridge.
TVA to get new chairman, directors
With the convening of the 115th Congress today, the terms of TVA's chairman and the heads of both TVA's finance and external relations committees expire. Within the next 30 days, the remaining six directors on the TVA board must meet to elect a new chair, who will appoint new committee heads while the board waits upon incoming President Trump to appoint and the U.S. Senate to confirm new board members.
In the interim, Lynn Evans, a Memphis accountant and chair of TVA's audit committee, will act as temporary chair of the TVA board. She becomes the first African-American to serve as TVA chairman in the agency's 84-year history.
Ritch, who had tried unsuccessfully to convince GOP senators to confirm his reappointment to the TVA board, said the outgoing board members wanted to do what they could last month to help ensure that the agency doesn't soon change leadership or direction. To help convince TVA CEO Bill Johnson to stay at the helm of TVA, Ritch, Mahurin and McWherter joined with the six other board members appointed by Obama to vote three weeks ago to give Johnson another raise in pay and retirement benefits to make his compensation more competitive with investor-owned utilities.
"It was a clear statement that we wanted to keep our management in place and to keep the direction we have been moving in and the loss of three people (on the TVA board) is not going to stop that," Ritch said. "There is a clear imprint that Bill (Johnson) has put on our organization and if a new board tries to change that I can see him being less interested in the position. He is certainly very hirable (by another utility)."
Over the past three years as head of TVA, Johnson has set the federal utility on a path of reducing its debt, shifting to cleaner forms of generation and keeping yearly rate increases at or below the inflation rate.
Less coal in TVA's stocking
Johnson has also moved TVA away from its historic dependence upon coal-fired power generation, in favor of more nuclear, natural gas and purchased wind or solar-generated power.
Over the past decade, TVA has shut down or announced plans to shutter nearly half of the 59 coal-fired units the utility once operated across its seven-state region. But as power demand has stagnated and TVA has moved to limit air pollution and carbon emissions from coal plants in response to federal environmental rules, TVA has cut its share of power derived from coal from more than two thirds of its generation in the late 1980s to only about a third of TVA's generation today.
Johnson said TVA's long-term goal is to get no more than 20 percent of its power from coal.
TVA also has trimmed its staff to about 10,000 employees, down from it 1981 peak of 51,709 employees, as part of a 3-year-old cost-cutting plan that has reduced annual operating expenses by more than $600 million.
Customers like direction of TVA
TVA's biggest customers have welcomed TVA's cost cutting and shifts in power generation adopted under the current Democratic board.
Pete Mattheis, an attorney for Nucor Steel and chairman of the Tennessee Valley Industrial Committee, said TVIC has supported the current board and management in their efforts to cut costs and keep rate increases down.
"I think TVA has done a real nice job over the past several years to get its house in order and we like the direction of where TVA is headed," Mattheis said. "We want continuity, and we are concerned with the potential board changes that there could be a lack of continuity."
The leaders of the 155 municipalities and cooperatives that buy and distribute most of TVA's power also have voiced concern that the partisan change in the White House might disrupt the leadership or direction of the federal utility.
"We are very pleased with where the board has been and we would have been very comfortable to see Joe Ritch continue as chairman and other board members to continue," said Greg Williams, general manager of the Appalachian Electric Coop in New Market, Tenn., and chairman of the Tennessee Valley Public Power Association. "If this change (from the old board appointed by Obama to the new board Trump will appoint) ends up being more of a political shift than it is about leadership, that's obviously disappointing, We're very pleased with Bill Johnson and we'd much rather have the picks based upon leadership and experience, rather than just making a political appointment."
Senators urge continuity at TVA
Alexander, a member of the Senate Environment and Public Works Committee that helps oversee TVA, said he doesn't expect any upheaval at TVA with the new president.
"In my opinion, TVA is on a good track and, as a result, our region should for the next couple of decades have a steady supply of reasonably low cost and increasingly clean electricity," Alexander said. "I would expect the President-elect's TVA appointees to continue these policies and to be men and women who understand the region, corporate governance and TVA customers."
Corker, who campaigned with Trump and was a leading candidate for both the vice presidential ticket and later Secretary of State in the new administration, said he and other Republican senators in the Tennessee Valley are eager to work with the incoming Trump administration on potential nominees for the TVA board.
"It's just a fact of life when there is an election and a change in administration, nominees that are in progress tend to be stopped and if there is a change in party a new slate of nominees is put forth," Corker said. "What happened is just a natural outcome of an election and has nothing to do with the nominees themselves, who are people I worked closely with and respected."
Oak Ridge future under Trump
Corker, the chairman of the Senate Foreign Relations Committee, also said he expects the Trump administration will continue - or could even expand - Oak Ridge's research and nuclear development programs. Although DOE funds many research and incentive programs to develop more solar, wind and other renewable and alternative energy generation that fiscal conservatives and climate change skeptics have questioned, most of the energy department is actually involved in supporting the U.S. military.
About 62 percent of DOE's $32.5 billion budget is for military purposes, including maintaining and modernizing America's nuclear arsenal and cleaning up or reprocessing old nuclear weapons.
"Trump talked a lot on the campaign trail about modernizing our nuclear arsenal and the fact that Russia has been using its best and brightest scientists on their modernization efforts and that we have been falling behind," Corker said. "Hopefully, what that is going to bode for is continuing to ensure that we are doing those things that appropriately safeguard our country."
Despite Perry's campaign pledge as a presidential candidate to abolish the Department of Energy, Corker said the essential work of the department - much of which is done in Oak Ridge - must continue.
Alexander said he has long admired Perry and expects him "to be an excellent Energy secretary."
"He understands the role of the Department of Energy in managing and modernizing our nuclear weapons, which is an important part of what goes on in Oak Ridge," Alexander said. "And he knows that the future of clean energy depends to a great extent upon research at our outstanding national laboratories, including Oak Ridge, rather than upon federal government subsidies. I have invited him to come to Tennessee early next year and see the work done there firsthand."
Contact staff writer Dave Flessner at dflessner@timesfreepress.com or at 423-757-6340.