Photo Gallery
Rafting and kayaking on the Ocoee River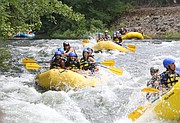 A historic private/public partnership finalized by Tennessee Gov. Bill Haslam saved whitewater rafting on America's most popular rafting venue and laid the groundwork for future deals.
The agreement ensures the Ocoee will flow for rafting season for at least 15 more years while compensating Tennessee Valley Authority for lost power revenue.
"Representative Dan Howell and I were so thankful that the governor realized the importance of this river and the impact it has on southeast Tennessee," said state Sen. Mike Bell, R-Riceville, who helped broker the deal with Howell, R-Georgetown.
Hundreds of thousands of people raft the Ocoee each year, making it the most visited rafting venue in the U.S.,