Photo Gallery
Erlanger breaks ground on new children's hospital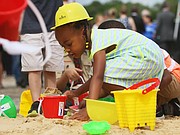 One of the first things Erlanger Health System CEO Kevin Spiegel did after he was hired in 2013 was tour the T.C. Thompson Children's Hospital.
He and Dr. Alan Kohrt, the children's hospital's chief medical officer, agreed the roughly 40-year-old building that's part of the main Erlanger campus was outdated and needed to be replaced - especially considering the mean age of U.S. children's hospitals is 6 years.
"But it was at a time when we were not financially sound," Spiegel told a crowd of hundreds gathered at the corner of Third and Palmetto streets Tuesday morning for the groundbreaking of the new Erlanger Children's Hospital outpatient building.