Attorneys for the 24-year-old driver who crashed a Woodmore Elementary school bus, killing six students, want to freeze all civil litigation against him and his employer to protect his constitutional rights.
Hamilton County Circuit Court Judge J.B. Bennett will hear arguments at 10:30 a.m. Monday in the case of Johnthony Walker and Durham School Services, the Illinois-based corporation that provides the majority of school bus service in the county. Bennett has ordered that a dozen lawsuits filed in connection with the Nov. 21 crash be consolidated to make state proceedings run smoothly.
Walker, who faces criminal charges of vehicular homicide, reckless endangerment and reckless driving, does not have a trial date yet. Chattanooga police spokeswoman Elisa Myzal said officers may present his case to the grand jury next week. If they return an indictment, Walker then heads to Criminal Court, where attorneys will work toward a trial, a settlement or a dismissal.
Civil attorneys who want their clients to be compensated for deaths, injuries and pain suffered in the crash oppose Durham's arguments to hold the case "in abeyance." If granted, that request could effectively pause the civil litigation until Walker's criminal case charges are adjudicated.
Still, the question remains: Should Durham and Walker have more time to respond to family members whose loved ones were killed or injured in the Talley Road crash? Or should they hand over information attorneys for the victims say is necessary to move the cases forward?
It all depends on who you ask.
Attorneys for Durham say releasing critical pieces of information could damage Walker's rights.
"Durham cannot be put in a position where it violates Walker's right to a fair trial," attorney Michael Campbell wrote Monday. In that motion, Campbell argued Durham signed away several pieces of evidence to the state at the crash scene: Video footage, the engine control module, and a report that tracks maintenance issues.
The state could use that evidence against Walker in his prosecution, so sharing it with the victims' attorneys or proceeding with the civil suits could threaten the 24-year-old's constitutional rights, Durham attorneys say. For example, Walker might say something in a civil deposition that could be used against him in the criminal case. That would violate his Fifth and Sixth Amendment rights to remain silent and have a fair and speedy trial.

But some plaintiffs' attorneys counter that Durham is avoiding taking responsibility for the crash and withholding damages from victims.
"Defendant Walker cannot escape liability for his misdeeds, so he is attempting to delay these proceedings rather than facing the consequences of his actions," attorney Everett Hixson, who is representing one of the families, wrote in January.
Attorney Hu Hamilton, who has sued Durham before but does not have a case against the company right now, said the Fifth Amendment claim is sometimes used for delay in commercial litigation. Sometimes corporations don't want to release internal documents for their competitors to see, he said. Other times, state agencies or county attorneys' offices don't release critical information to plaintiffs' attorneys during an ongoing investigation.
"A lot of times, we have difficulty getting these documents until the criminal investigation is over with," Hamilton said. "It's very frustrating because really important information is in possession of these state parties."
As for the victims who want pain and suffering damages?
"You have to take a big patience pill," Hamilton said. "It's a long and challenging process."
There's already been one attempt to get Durham to turn over documents and evidence in the process known as "discovery."
In late January, Georgia-based attorney Joe Fried asked Walker's criminal defense attorney, Amanda Dunn, for books, papers, documents and electronically stored information important to the case. But Dunn refused, citing a recent Tennessee Supreme Court decision that pointed out the dangers of releasing such sensitive records during a criminal investigation.
"Discovery records often contain personal information of witnesses, investigators, and victims," Dunn wrote in a Feb. 16 motion, "potentially implicating the privacy interests of numerous individuals both directly and indirectly involved in the criminal case."
She also attached a document from Hamilton County District Attorney Neal Pinkston, who said his office has turned over specific pieces of evidence only to Dunn. "These items are not to be provided to any third party," he wrote.
For now, Walker remains incarcerated at Hamilton County Jail. His case has been pending in the grand jury since Dec. 15, when General Sessions Court Judge Lila Statom said there was enough evidence to bind his charges over.
Contact staff writer Zack Peterson at zpeterson@timesfreepress.com or 423-757-6347. Follow him on Twitter @zackpeterson918.
Photo Gallery
Tinsel and Tutus @ Reynolds Performance Hall — 12/12/13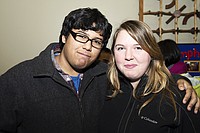 12/12 — The Conway Symphony Orchestra entertained with Christmas music, including highlights from The Nutcracker performed by the Arkansas Festival Ballet.