Photo Gallery
Wiedmer: Butch Hannah has thrown his final NFL flag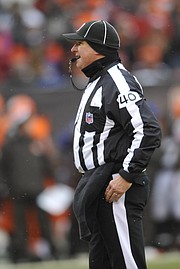 His attitude may change come the fall when the leaves turn and frost dusts the pumpkins, but Butch Hannah isn't sounding much like a man who's the least bit uncomfortable with his decision to retire his NFL umpire's flag. The replay booth isn't overturning this call.
"Life is good," the 66-year-old Hannah said early Friday afternoon. "My wife and I are going to the beach for two weeks. My golf game has never been better. And for the first time in 33 years I don't have to spend my vacation brushing up on changes in the college football and NFL rule books."
It all started in 1980 when Hannah gave up his high school football assistant coaching career to work for the U.S. district court system here in Chattanooga. Becoming friends with local sports legend Skipper Fairbanks, he was asked to attend a referees meeting.
"I hated referees," Hannah recalled. "I was a coach."
But to appease Fairbanks, he relented. And to his surprise, he soon became a zebra. By 1984 he was officiating Southern Conference football games. He graduated to the Southeastern Conference in 1991. He worked Tennessee's 1998 SEC championship game win over Mississippi State inside the Georgia Dome on the Volunteers' march to that year's national championship. Then he headed for the NFL.
Over 18 seasons, he worked 14 playoff games and was an alternate at two Super Bowls (XLI and 50).
"No one got hurt, thankfully, so I never got to actually work a Super Bowl," Hannah said. "But I was an alternate both times Peyton Manning won his Super Bowls."
Like most folks in the Volunteer State, Hannah has a favorite Manning story. Unlike almost everyone else, his is truly a one-on-one moment.
"Peyton's next-to-last year, the Broncos were facing the Dolphins in Denver and the whole game was a struggle for them," Hannah said. "I called back two Denver touchdowns. But they pulled it out by two or three points (39-36). But late in the game, the clock about to run out, Peyton mistimed a snap and they had to run one more play. Peyton said something off-color to me, which was not at all like him.
"I told him, 'Peyton, you're better than that.'"
But the story was just beginning. A few weeks later, a FedEx package arrived at Hannah's doorstep. Inside it was a letter originally sent to the NFL's offices in New York City. The letter was from Manning.
"He said he wanted to apologize for his reaction to me that day against the Dolphins," Hannah related. "Would I please accept his apology? That's the only time that's happened to me in all my years of officiating."
Even then, the story didn't end. A few months later, Hannah was about to umpire a preseason game between the Broncos and Seahawks in Seattle. He felt someone put an arm around his shoulder.
"It's Peyton," said Hannah, who's known Manning since both were in the SEC in the mid-1990s. "He asks me, 'Did you get my card?' I said, 'Peyton, you've got to let this go.' He says, 'You have no idea how upset I was with myself.' That's the kind of son Archie and Olivia raised. Pretty impressive."
Fellow Chattanooga-area resident and 15-year NFL referee Lee Dyer says Hannah always has been pretty impressive also.
"He's obviously been a mentor to me," said Dyer, who also worked that 1998 SEC title game between the Vols and Bullies. "I've kind of followed in his footsteps my whole career - from the SoCon to the SEC to the NFL. Everybody makes mistakes, but nobody worked harder than Butch to make sure he didn't make the same mistake again. He's always said that if nobody notices you out there (on the field), you've done your job."
Dyer also believes Hannah's demeanor has helped both him and the crews he's worked on do better jobs.
"Just Butch's personality," he said. "The way he handles himself. He's a very calming influence. He just has this knack for keeping everyone on the crew calm."
Hannah says he was anything but calm while working the 2002 Pro Bowl in Honolulu.
"I'm not even sure my feet were on the ground," he said. "The game starts and to my left is (Baltimore Ravens linebacker) Ray Lewis and to my right (San Diego Chargers linebacker) Junior Seau. Right across from me, (Green Bay Packers quarterback) Brett Favre is coming up to the line. I'm thinking, 'Man, I've arrived.' My hat might have been a little tighter that day from my ego."
But life and football officiating also are humbling. Near the end of a 2005 Ravens-Browns game, Hannah got hit from the side. He suffered ACL and MCL tears and a broken tibia. His season was done.
"My worst moment," he said.
Now all the moments, both good and bad, are over. Though he'll do consulting work for the SEC this year - "It gives me a chance to give something back to the game I love" - he's excited to spend more time with Kathy, their sons Jeff, Matt and Brian and their five grandchildren.
"I really think this has been more difficult for them than me," Hannah said.
One reason it might not be difficult for him is the last game he worked - last season's playoff game between Houston and Oakland.
"I thought I'd had a really good game," Hannah said. "I ended up grading out 100 percent. I decided this might be the time to retire."
And so he has, leaving the only profession in sports where it's preferable for no one but friends and family to know your name.
Contact Mark Wiedmer at mwiedmer@timesfreepress.com.