Photo Gallery
Winning performance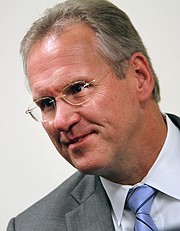 Employees of the Tennessee Valley Authority will have extra reason to be thankful during Thanksgiving next week when TVA distributes year-end performance bonuses averaging $10,970 for each of more than 10,000 workers.
But TVA President Bill Johnson says electricity users in the Tennessee Valley should also be thankful for the utility's success in cutting power rates, pollution and expenses at TVA and helping attract more than $40 billion of new investment in the region over the past five years.
"We are getting really good results for the people we serve, and this performance pay is in recognition of that effort by our employees," TVA President Bill Johnson said Wednesday.
Just ahead of next week's Black Friday sales, TVA employees will share in $112.5 million of winning performance payments being paid to workers after the TVA board determined the agency had exceeded its 2017 corporate targets by reducing debt, injuries and emissions while still exceeding targets for job generation, power reliability and environmental improvements.
Top pay at TVA
› Bill Johnson, president and CEO, $5.07 million in pay and bonuses, up 3.3 percent from the previous year, and total compensation of $6.7 million› Joe Grimes, executive vice president for generation, $2.1 million in pay and bonuses, up 12.7 percent from the previous year, and total compensation of $2.4 million› John Thomas, chief financial officer, $2.02 million in pay and bonuses, down 10 percent from the previous year, and total compensation of $2.3 million› Mike Skaggs, executive vice president of operations, $1.5 million in pay and bonuses, 12.6 percent from the previous year, and total compensation of $1.9 million.› Sherry Quirk, general counsel, $1.47 million in pay and bonuses, and total compensation of $1.6 million.**Quirk was not previously among the top 5 executives so pay data from previous years is not available.Source: TVA 10K filing for 2017. Compensation includes salary, short-term and long-term incentives and the change in pension values and deferred compensation plans.
Winning performance pay
2017: Total payments of $112.5 million, or an average of $10,970 for 10,250 employees.2016: Total payments of $102 million, or an average of $9,532 for 10,700 employees2015: Total payments of $113 milion, or an average of $10,367 for 10,900 employees2014: Total payments of $131 million, or an average of $11,400 for 11,510 emmployeesSource: Tennessee Valley Authority
Although fewer in number, TVA employees next week will get, on average, about 15 percent more in year-end performance payments than the $9,532 average payment made last year. The winning performance pay for 2017 was still below the peak average of $11,400 paid in fiscal 2014, however, when TVA paid a record $131 million in year-end bonuses.
The amount of the winning performance pay varies widely, but most workers will get extra payments next week equal to at least 5 percent of their annual pay.
TVA executives, such as Johnson, who have the biggest share of their income at risk, got the biggest incentive payments from TVA in fiscal 2017.
Johnson's total direct pay and compensation in the past fiscal year totaled more than $5 million, or five times his base annual salary of $995,000.
The 63-year-old attorney and utility manager, who previously served as CEO of Progress Energy, joined TVA in 2013 and quickly became the highest paid federal employee in America.
In its year-end financial report released Wednesday, TVA said it boosted Johnson's pay by 3.3 percent, or $161,584, in fiscal 2017 over the previous year. That boosted his direct pay to more than $5 million and his total compensation, including his pension and deferred compensation, to $6.7 million.
Johnson's pay is more than 12 times greater than the $400,000 salary for President Donald Trump and nearly 25 times greater than the $201,700-a-year-pay for the Federal Reserve Board chairman, who helps control America's money supply.
But even with the higher pay in 2017, Johnson's compensation was still nearly 40 percent below the median annual pay of $8.4 million for comparable CEOs at 38 other similar power utilities surveyed by Willis Towers Watson.
"We think Bill Johnson is one of the best executives in the utility industry, and we feel very fortunate that we have him," TVA Chairman Richard Howorth said last week after the board voted unanimously to boost Johnson's salary by 5.5 percent in fiscal 2018. "He could make more somewhere else."
As a self-funded, federally owned corporation that competes with investor-owned power utilities, the TVA Act requires the utility to pay its employees competitive and comparable pay and TVA is not under pay guidelines for other federal government workers.
Sue Collins, TVA's chief human resources officer, said TVA benchmarks its pay for each job with other power utilities, both private and government owned, and then holds back a portion of that pay level for workers to be paid in winning performance pay each fall based upon how well they and TVA overall achieve predetermined targets.
Among 20 major rating factors, TVA exceeded the targets in 13 categories and fell short in only two, according to TVA's year-end financial report filed with the U.S. Securities and Exchange Commission.
Collins said most non-union employees at TVA also are getting annual pay adjustments averaging about 3 percent this fall, although the specific amounts vary based upon the job and the performance of each worker.
"It is true that we are hiring fewer people, but there is significant war for talent and in every organization, including this one, your talent is extraordinarily important," Johnson said.
The TVA CEO said the higher pay and winning performance bonuses are not necessarily costing TVA ratepayers more, since TVA is succeeding in reducing its staff and operating expenses even with the higher pay.
During the past four years while Johnson has been CEO, the federal utility has cut its annual operating costs by more than $800 million and last year cuts its air pollution, employee injury rate and overall staff size to record lows.
TVA electric rates, on average, are about 2 percent below where they were in 2013, even after a 33 percent jump in natural gas prices during the past year.
"We were able to provide low-cost power, carry out our responsibilities for stewardship and economic development, invest more than $2 billion in capital improvements to our system and still reduce our debt and financing obligations by nearly $200 million - the first year TVA has lowered debt levels since the implementation of the long-range financial plan in 2013," said Johnson, who called the results "outstanding."
TVA sold less power in fiscal 2017 than in the previous year due to milder weather and continued consumer conservation, which cut overall electricity use by 2 percent. Net income also fell by 44 percent to $685 million, but most of that drop was due to a one-time payment TVA made to help shore up its underfunded employee pension fund.
Contact Dave Flessner at dflessner@timesfreepress.com or 423-757-6340.