Photo Gallery
Confederate bust removal stonewalled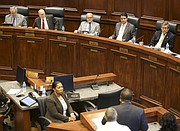 The Hamilton County Commission's decision to keep the bust of Confederate Lt. Gen. Alexander P. Stewart on the courthouse lawn hasn't ended the battle for its removal.
While some shed tears in the immediate wake of Wednesday's 6-2 vote to leave the general's likeness in place, members of the Chattanooga chapter of the NAACP promised their struggle would continue. The organization recently organized a march and prayer vigil in protest of the bust, which depicts Stewart in his military uniform.
After the meeting, Dr. Elenora Woods, the chapter's president, said things will have to change and voting out the commissioners who opposed the bust's removal is a key order of business. Commissioners Greg Beck and Warren Mackey, the two black members of the commission, cast the only votes to remove the bust.
"They have taken us back 400 years, but we have exposed them," Woods said. "Chattanooga and Hamilton County are better than that. We are the people, and we are determined that we will continue to strive for freedom. We are not a model city, we are not a model county."
Yusuf Hakeem, a senior executive board member of the NAACP chapter, said the commission's stance potentially puts the matter in a larger context.
"Where this could have been dealt with locally, I think it will be part of that national piece to overturn concepts of this nature," Hakeem said. "For whatever their reason is, our belief is this is not the end, this is only the beginning."
While the NAACP is disappointed in the vote, it is is part of process of "establishing a mindset" that may lead to talking with legislators and the Tennessee Historical Commission, he said.
The state's historical commission has ultimate say-so over removing monuments or changing park and street names, according to the 2016 Tennessee Heritage Protection Act. Local lawmakers must seek the body's approval before doing away with such memorials.
"There are times when moral courage needs to come forward, and we feel that didn't happen today," Hakeem said.
Last week, Beck introduced legislation to seek the state's permission to remove the bust, which was erected in 1919 by the United Daughters of the Confederacy. His intention was to place the courthouse on "neutral ground."
"This building stands for justice and we should honor that," he said, adding that leaving the Stewart bust in place keeps Hamilton County connected to "a dark chapter in American history."
Commission Chairman Randy Fairbanks and members Chester Bankston, Tim Boyd, Jim Fields, Joe Graham and Greg Martin voted against removing the bust. Commission Vice Chairwoman Sabrena Smedley was absent, recovering from a hospital stay, Fairbanks said.
Stewart bust proponents have cited a number of reasons for retaining his likeness on the courthouse grounds, cautioning he cannot be judged for his decision to be more loyal to his state than the nation. Some have pointed out that he did not believe in secession or own slaves, but he did serve as a commissioner of the Chickamauga and Chattanooga National Military Park.
"It symbolizes a man who was torn and wanted to serve his state," Fields said, adding he could not second-guess the decision to place Stewart's bust on the courthouse lawn nearly 100 years ago.
Chris Dooley, a retired United States Air Force colonel and veterans advocate, asked commissioners to save Stewart's bust.
"This may be somebody we may not need to throw away in the dust heap, so nobody comes and sees him, but someone we ought to hold up," Dooley said, speaking of how Stewart's park role helped the nation heal and reconcile after the Civil War.
Last week, Boyd said no other memorial should replace the Stewart bust if it is removed, indicating he would seek to amend Beck's resolution to include such a stipulation.
"I think the grounds of the county commission should be grounds solely dedicated to the running of government of Hamilton County and not be a place of continued discussion of who is memorialized and who is not memorialized on the grounds of Hamilton County," Boyd said at the time.
However, Boyd made no attempt to amend Beck's legislation when it came time to vote.
After the meeting, Boyd said he knew the resolution would not pass and his amendment would be a moot point.
"If it passed, I would have submitted that amendment as a sole resolution some time in the future," Boyd said.
When Hakeem addressed commissioners, he said the NAACP did not seek to argue "what is and what is not" the "many shades" of Stewart's story. At its heart, it's what Stewart's Confederate uniform symbolizes, he said.
"At the core of the issue is that the symbolism of the statue is not one - in our view - of bringing people together," Hakeem said. "We are all taxpayers. It is a public space for all of us."
To commemorate Stewart's Confederate legacy at "the most highest institution of justice and equality, right at its front door" is just wrong, Woods said. Stewart's good works don't justify it.
"He fought for slavery," Woods said. "They say he wasn't a slave owner and that he was a good man. That's not good enough."
A number of people have recommended finding a new home for Stewart's bust at the Chickamauga and Chattanooga National Military Park, a move that would require an act of the United States Congress.
"This is not a casual undertaking at all," Barbara Judy, the park's acting superintendent, said in a phone interview.
Proposed commemorative additions must meet criteria and conditions established by the National Park Service before they go to Congress for a vote, she said.
Judy said the focus of the Chickamauga and Chattanooga National Military Park is to tell the battlefield's story. It contains more than 700 memorials dedicated to the 29 states and the specific actions of their units, but it has contained no commemorations to any individual since the park was established in the 1890s.
Contact staff writer Paul Leach at 423-757-6481 or pleach@timesfreepress.com. Follow him on Twitter @pleach_tfp.
Photo Gallery
Marchers seek removal of Confederate statue