Photo Gallery
Explosion at Wacker is second incident within 8 days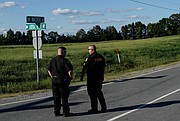 Wacker Polysilicon announced Tuesday it is closing its Charleston, Tenn., plant, possibly for "several months," as the investigation into the cause of a Sept. 7 explosion continues.
In a news release, Wacker officials said an equipment malfunction led to a hydrogen explosion at the plant and damaged piping leaked chlorosilane, a chemical that creates hydrogen chloride as it comes into contact with moisture in the air.
"Thanks to the immediate action of all response teams involved, there was no risk to the community," the statement reads.
It was the second incident in eight days at the plant. Five workers suffered chemical burns Aug.