Photo Gallery
School safety meetings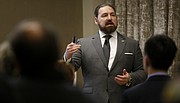 Local law enforcement, school and community leaders and elected officials met alongside national experts to talk about school safety Monday, but in both a closed morning conversation and a public town hall in the afternoon, few teachers and parents were present.
Representatives of the Hamilton County Sheriff's Office, the Chattanooga Police Department and surrounding municipalities' law enforcement agencies met Monday morning with Michael Yorio, national school safety expert and president of SSI Guardian, a security consulting firm, to discuss the safety and security in Hamilton County's schools as well as at the sparsely attended town hall later in the afternoon at East Hamilton Middle High School.
"From the Parkland attack forward, Sheriff [Jim] Hammond has been really thinking about how he can lead the conversation about school safety," said Weston Wamp, who helped organize Monday's convening.
Since the shooting at a Parkland, Fla., high school in February, school safety has been a hot topic in the community - varying from conversations about school funding and mental health to whether teachers should be armed. Parents, students and teachers have joined the discussion, calling on officials for answers and solutions.
At Monday's morning meeting, local representatives shared some of their ideas and priorities for ensuring safety and later while answering questions at the town hall.
School resource officers - now present in only 29 of the county system's 79 schools - improving mental health counseling, building relationships in an effort to identify threats before an incident happens and streamlining training for employees were among the items discussed.
The answer to one of the biggest questions though, was unclear: What agency or institution is in charge when a mass shooting or catastrophic incident occurs at a school?
"Ultimately ... everyone has to work together," said Hamilton County Mayor Jim Coppinger. "When you're setting up these plans, who's ultimately responsible? Someone has to be accountable, responsible for making sure the plans are in safe."
Though many of the county's schools fall outside of the city of Chattanooga, about 40 of them are within city limits and several fall under the jurisdiction of municipalities such as Red Bank, Signal Mountain, Lookout Mountain, Soddy-Daisy and East Ridge.
Chattanooga police Chief David Roddy said the issue of safety is a shared responsibility, emphasizing the responsibility of individual officers to build relationships and work with the communities inside each school.
Hamilton County Schools Superintendent Bryan Johnson echoed the shared concern.
"Meeting like this shows the commitment of the entire community; it's a multilayer issue," Johnson said. "The point to us is it's not something we can do in isolation."
Multiple agencies already work together when it comes to emergency operations, and work together well, said Winston Shields, deputy director of Hamilton County Emergency Management.
However, when it comes to school resource officers, the sheriff's office bears that burden. Chattanooga police pay for two SROs, but otherwise, the recurring costs of about $80,000 to $100,000 per officer annually come out of Hamilton County Sheriff Jim Hammond's budget.
Hammond, though stating he is ultimately responsible for the safety of the county's schools, especially with resource officers present, said he would like to see shared responsibility and shared costs - among the county, the school district and surrounding municipalities.
During the town hall, Hammond noted that he planned on sending an official letter to chiefs of surrounding law enforcement agencies to urge them to help fund SROs in their schools.
"If all the municipalities can come together and address the SRO issue, we might get somewhere faster," said Angie Markum, director of development at Ivy Academy.
In this year's proposed budget, the school system has allocated $250,000 for school resource officers, but Hammond said it would take about $4 million to put one in every one of the schools now without one.
The national experts, Yorio and his partner Todd Evans, one of SSI Guardian's executive instructors, shared some best practices and options for securing schools as well as how to train those who work in them.
Organizers of the events said Yorio and Evans were donating their time to be in Hamilton County today, but SSI Guardian does offer products such as school safety training that could be an option if local organizations chose to go that route.
Evans and Yorio both pointed out that nationally, law enforcement agencies often work alone rather than meeting collaboratively with other agencies in the area.
"You are at the cutting edge, and we thank you for doing [this]," Evans said of the diverse group meeting Monday. "We aren't seeing this around the country."
Evans and Yorio noted that nationwide active shooters historically are male and current students, but the dynamic is changing. In recent years, shootings have been done by couples, women and former students, as well. Agencies can prepare and train for such incidents, but there isn't a cookie-cutter approach for every district or even every school, they said.
"A comprehensive approach incorporates security best practices into safe campus initiatives," Yorio said, adding that any safety plan should not have one singular point of failure.
Roddy emphasized the collaboration needed when talking about safety.
"The conversation about school violence isn't just school violence," he said. "It involves staff, officers, cooperative relationships with parents."
Some student representatives were present at the morning meeting and able to share some of their viewpoints on the safety of their schools and desire for more proactive steps with leaders.
Allen Liu, a senior at McCallie School and youth leader with Chattanooga Students Leading Change, asked officials what could be done to allow students to feel more comfortable reporting tips or concerns.
"How do we make sure that students are reporting potential threats?" Liu asked. "According to statistics from the governor's office, only 40 to 45 percent of students would be willing to report a threat from another student."
Lauren Gossett, a senior at East Hamilton High School, shared some of her school's individual concerns, including ease of access to the buildings, and former students' abilities to wander campus.
Facility improvements or redesigns are among many solutions the school system and county officials have talked about. As new schools are built, architects are reviewing safety plans, and the district has allotted more than $500,000 dollars to implement a new visitor management system and an automated door lock system.
Markum, along with the few other educators and community members who were able to join the town hall, added that it was scheduled at an inconvenient time for teachers and students with parents who might be still at work and can't make a 4 p.m. meeting.
"My teachers had to rush after school to get here," she said.
Jeanette Omarkhail, the president-elect for the Hamilton County Education Association, said although there wasn't enough advance notice of the event, it was a good start.
"I don't think this will be the [only] conversation. It was a good start," she said.
Contact staff writer Meghan Mangrum at mmangrum@timesfreepress.com or 423-757-6592. Follow her on Twitter @memangrum.