Photo Gallery
Georgia state senator blasts opponent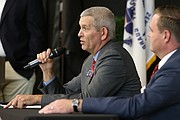 DALTON, Ga. - State Sen. Chuck Payne told his opponent Tuesday evening that he was tired of the lies he's been spreading, that he "illustrates all that I'm working against."
The trigger? A letter Payne's challenger, Scott Tidwell, sent residents this week. It says Tidwell is running for office May 22, and that he has a lovely wife of 24 years, and that he has four children, and that he works at a local funeral home.
Also: "Our current Senator has aligned with the left-wing Democrats at our state capitol on the issue of illegal immigration."
Payne, R-Dalton, told a small crowd during a forum at Southeast Whitfield County High School that the letter is "without truth.