Photo Gallery
Volunteers help Spanish speakers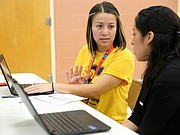 As families gear up for school to start next week, volunteers in Hamilton County are helping the growing population of Spanish-speaking Latino parents clear back-to-school hurdles.
More than 11 percent of Hamilton County students are Hispanic or Latino, but in some communities the concentration of Hispanic or Latino students is much higher. Many of them come from homes where English is not the first language. That presents a challenge for both families and school administrators when it comes to registration, but local nonprofit La Paz Chattanooga has been working to help.
"Their biggest role is walking alongside the Latino families, as well as working with other churches and organizations who also want to provide services to this population," said Patrick Miles, director of community engagement and donor development for La Paz.
On Friday, most Hamilton County public schools were open for kindergarten kick-off and school registration festivities.
At East Lake Elementary, the cafeteria was filled with students, families, teachers and staff members, and volunteers spread out at dozens of tables.
Working alongside the Hispanic students and their families that make up more than half of the school's population were bilingual volunteers such as Elvia Piccolo, who was there to help the process more smoothly.
"I was in the same place. I had to learn the language," Piccolo said.
Piccolo came to the United States from Cuba in the 1960s, landing first in Florida and then living in Nebraska. For many years, she taught Spanish at Girls Preparatory School, but she still remembers the struggles of being a refugee who didn't speak the language.
"The language is always the problem," she said. "We have to help them."
Sometimes older children who have grasped the language in school serve as translators for their parents. Margarita Lucas, 11, a rising sixth grader at East Lake Academy, answered a volunteer's questions as her dad registered Margarita's three younger siblings Friday.
This year, the school district launched a new online registration portal, which though it offers a Spanish translation option hasn't been without its kinks.
Beatrice Joyner, an English as a second language teacher at East Lake Elementary, said many of the parents of her students cannot read or write even in Spanish. Many of them are immigrants or might not have completed a lot of schooling in their countries of origin, she said.
"When communicating with English-only teachers, they aren't able to communicate their concerns," Joyner said, adding that even when asking a third party or another teacher such as herself for help, parents have to assume the assistant is acting in their best interest.
Yaneth Perez Vicente was registering her 5-year-old Neidar for kindergarten Friday. She said it was easy with Joyner's help.
"Nothing has been hard, because I have been able to get the help I needed," she said.
Perez Vicente has some of the typical concerns a mother has when she sends her first child to school for the first time.
"I am worried he will be emotional, that he will cry for the first few days," she said. "But he's excited too, he's been asking when can he start school."
Joyner said community organizations should offer Spanish classes first, so parents can improve their literacy in their native tongue before they work on switching to English.
"Probably one of the biggest things that could help is if they learn to read and write in their original language first," she said.
East Lake Principal Joyce Lancaster said she has seen the Hispanic population climb in the past decade. The school now has seven staff members who are bilingual, but when Joyner started four years ago she was one of only two teachers who spoke Spanish.
"Since they don't speak English, language is complicated," Lancaster said. "During registration we have to make sure we have interpreters and the right information, the right credentials."
In an effort to reach out to parents, East Lake has held three additional registration sessions, an undertaking other schools in the county might not have to do, Lancaster added.
"It helps if you are proactive and know your community's needs," she said.
The 90-plus volunteers that La Paz has dispatched in the weeks leading up to the first day of school have helped.
Miles said several local companies including EPB, BlueCross BlueShield and Unum also have sent bilingual employees over during their workdays.
Dawin Aquino volunteered at East Lake Elementary on Friday and Sale Creek the day before during his workday.
Originally from Puerto Rico, he sat alongside parents helping them fill in the information required for the online registration portal.
"The language barrier is hard," Aquino said. "I enjoy doing this. If I [help parents] do one, then the second will be easier."
Though the school district has committed to hiring more English as a Second Language teachers, translators or interpreters as the Latino population grows in Chattanooga, there probably still will be growing pains administrators will have to face.
"Because the population is rising, the schools have been trying to pay attention to that," Miles said. "And they put more pressure on [the] central office to tackle these issues."
Contact staff writer Meghan Mangrum at mmangrum@timesfreepress.com or 423-757-6592. Follow her on Twitter @memangrum.