Photo Gallery
Skyuka Hall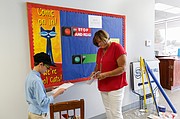 First came the flood. Then came the tears.
Tears from fear that Skyuka Hall's almost 100 students wouldn't have had a school come August after a water main break and a roof collapse destroyed the independent school's former location on Mountain Creek Road. And fear that school leaders would not secure a new location within the 45 days given to them by the school's accreditation organization, the Southern Association of Independent Schools.
Tears of exhaustion as the school's 22-member staff visited new locations, inventoried the wreckage for insurance claims and reached out to the community for donations.
And finally, tears of joy when staffers were handed the keys to their new, temporary home - Chattanooga Charter School of Excellence's former location. When the walls were painted, books were donated and furniture delivered.
When teachers saw their new classrooms for the first time, they were armed with supplies and ready to prepare the school for its students in less than a week.
But despite the tears, despite the frustration, Skyuka Hall Head of Schools Josh Yother said he never doubted.
"It has allowed all of us to better appreciate the challenges our students face on a daily basis," Yother said. "And just like we expect them to overcome these adversities, these has been our challenge to overcome."
Skyuka Hall is an independent school in Hamilton County serving students in grades K-12. The school has seen significant growth in the past few years - it has 94 students now enrolled, up from less than 20 just five years ago. In 2020, Skyuka Hall will graduate its first class of seniors.
In July, the school's former location was flooded, the roof collapsed and students and staff lost the building they had called home for more than a decade.
"The ceiling caved in, the walls blew out and all of our stuff just floated away," said Ashley Moore, the school's social development director and an elementary teacher. "It was all destroyed."
Skyuka Hall students often turn to the school after exhausting other options, Moore said. Most of the school's students have challenges stemming from learning disabilities such as ADD or ADHD, Asperger's syndrome or an autism disorder, or have other "expressive" or behavioral issues, Moore said.
"They are so demoralized when they come to us," said Lynne Forato, the development director for the school. "By the end of the year, they see so much success that has been built into the classroom. They found a community, they found a home."
The school has an approximately 8:1 student/teacher ratio in each classroom in an effort to better meet the individual needs of each student.
"We have nontraditional classrooms and [they are] meeting those individual needs of these students every day," Moore said. "And that takes effort and that takes tools."
On Aug. 2, school leaders obtained the keys to their new location on Brainerd Road at the old Eastgate Theater. The new campus is much larger than the school's former home and includes a gymnasium, cafeteria and playground - things Skyuka Hall students did not previously have.
"There never was a question that we were going to find a place," Forato said. "For most of our children, there is nowhere else they could go. The need is too great."
Teachers, parents and volunteers have been hard at work getting the building ready for the first day of school Thursday.
With the walls freshly painted, motivational posters on the walls and computers plugged in and ready to go, the school doesn't look much different than any other school as it prepares to welcome its students - except for a few special touches.
The school's new library features old-fashioned card catalogs and items donated from local community members, organizations and even other schools.
Many of the teacher's desks are oversized, executive-style desks, and they've added their own personal touches. In the reading intervention classroom, instead of desks, students will sit around a conference table in large, regal green conference chairs.
"They will feel so big and important in those chairs," said Amber Beason, the admissions director.
Last week, the school hosted an orientation for students and their families, so they could get to know their teachers and the new building. Four more students have enrolled over the summer, despite the uncertainties about the school's location. Three new teachers also have joined the staff.
"I think this speaks volumes for our staff and our reputation in the city," Forato said.
Beverly Davis, the new upper school's high school English teacher, said getting her new classroom ready even in a rush felt just like any other year.
"I've taught for 30 years in a lot of different schools," Davis said. "I'm excited for this year because we have this new school building. Though students might have an attachment to memories, the children will do really well when they see what we have to offer now."
Yother, who has been caught in the heat of the day cutting grass at the former location and the new campus this summer, said he never doubted that they would pull it off because of his team and the love they have for their students.
"There were so many challenges, the challenges were so great," Yother, who is also a pastor and missionary, said. But his staff and he kept faith, he said.
"This is the house that love built."
Contact staff writer Meghan Mangrum at mmangrum@timesfreepress.com or 423-757-6592. Follow her on Twitter @memangrum.