Photo Gallery
Daily Photos 10.12.2008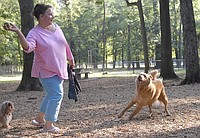 Empathy - the ability to see the world from someone else's perspective - is not often seen in politics, but it's one of the traits that set the late President George H.W. Bush apart from other leaders, said Jon Meacham, Bush's biographer, Pulitzer Prize-winning author and Chattanooga native.
It's one of three qualities - the other two being curiosity and humility - the 49-year-old Meacham has seen in the presidents he's studied and written about over the years.
"We would do well to emulate [them]," he said Monday as he spoke at his alma mater, McCallie School.
Just days after eulogizing Bush, Meacham talked to students, educators and alumni about the office of the president, his own time at McCallie and the 41st president.
"Without