Photo Gallery
Chattanooga Preparatory School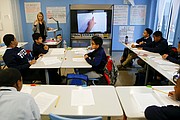 "Nothing can stop him, he's all the way up!"
Boys clad in khakis and ties, sweatshirts with "PREP" written in bold letters and dress shoes shout from their seats in a cafeteria in Chattanooga's Highland Park neighborhood.
"Nothing can stop him, HE'S ALL THE WAY UP!"
The 65 sixth-grade boys shout these song lyrics as their math teacher waves a wrestling championship-style belt in his arms and pumps the boys to scream louder.
"D.J., D.J., D.J., D.J., D.J.!"
The cafeteria erupts as one of their peers, shorter than many of them with a tight haircut, climbs atop a chair to receive the "Grit Belt" that Chattanooga Preparatory School faculty members award to a different student each week.
They don't choose the boy with the highest grades or the most basketball hoops made in gym, they pick the boy who has worked the hardest, participated in class the most and acted as a role model to his peers - the boy who has shown responsibility, resiliency and grit.
This weekly ceremony with a cult-like fervor is one of the ways the school's staff positively recognize students as a way to motivate and inspire them, and it's one of the three main parts of Principal Tim Gerrish's strategy to change the lives of the school's first class of boys.
Chattanooga Prep, or "Prep" as Gerrish calls it, has only been open for a semester - the students have been in their permanent classroom building for even less time - but with a small, dedicated staff and a determination to succeed, the new all-boys charter school is pushing its students to the limit and betting on success.
Students succeeding academically, and proving to the community and the state that they can succeed despite their circumstances, is what school founders Ted and Kelly Alling wanted when they opened the school.
Most of the boys who attend Prep are students of color and come from communities of concentrated poverty, the same communities that its nationally recognized sister school, Chattanooga Girls Leadership Academy, come from.
Together with CGLA Executive Director Elaine Swafford, the Allings decided to try and replicate the girls' success for boys in Chattanooga.
For that experiment to be successful, Gerrish believes, there are three main things to pay attention to: student culture, staff culture and classroom instruction.
Student culture: Bonds of brotherhood
"Please talk to your Prepster about giving their best effort," Gerrish said as he recorded a reminder about upcoming benchmark tests to be sent out to parents. "This is an opportunity for our boys to show you, their teachers and their community who they are."
Effort is stressed at Chattanooga Prep. The nine faculty members, the dean of students and Gerrish have high expectations for the boys. They don't just ask for perfection, they expect it.
At the beginning of the day, the sixth-graders turn in their cellphones to homeroom teachers, and they don't get them back until the end of the day. Between classes, they walk in single-file lines and are silent in the hallways.
The school's English as a second language teacher, Emma Wright, said she's constantly impressed by how the boys have adjusted to the school's "strict rules."
"It's been a whirlwind getting everything started," she said. "I've been so impressed by how the boys have responded to the systems we have. I had never taught sixth-grade boys, or at an all-boys school, and we have a lot of rules in place."
But student culture is one of the fundamentals needed for a school to be successful, Gerrish explained. And many of Prep's students need not only to be successful, but to catch up.
Across Hamilton County, only about 34 percent of fifth-graders can read on grade level. At the beginning of the school year, only 17 percent of Prep's students were testing on grade level. The students fell behind district averages in math, social studies and science, as well.
Gerrish and his staff said there isn't time for behavior problems.
"If student culture is weak, academic achievement isn't possible," Gerrish said.
But the school isn't a boot camp, it's still in the business of educating adolescent boys.
For 14 minutes, twice a day every day, the boys have "Brotherhood Bond," a time for them to take a break, relax and chat with their friends. Boys scoot from one classroom to another, play Connect 4 and visit with their teachers.
Daniel Jackson, or D.J., recipient of the Grit Belt, throws his hand around a classmate's shoulder as the boy twists and turns a puzzle ball. Then he swaggers in slow motion down the hallway, showing off the belt.
Gerrish stops in on a classroom and jokes with the boys, pats their shoulders or leans in and whispers praise or tips to them. When they leave their reading teacher Jennifer Huskins' classroom, she hugs or fist bumps each of them. Some tell her they love her.
"Oh, I love you, too," she responds.
Prepsters are still just boys, after all.
Staff culture: Consistent, high expectations
In its founding year, Chattanooga Prep only has 65 sixth-graders - one of the 66 who began the year chose to leave - and the school plans to add a grade level a year until it has grades 6 through 12.
With the small grade size comes the small staff: nine of them. And like the students, Gerrish demands much of his teachers.
Some of them are veteran teachers - Katherine Jacobs taught International Baccalaureate and honors classes at Ooltewah High School; Huskins taught at Chattanooga Charter School of Excellence.
Every morning before the boys' schoolwide free breakfast, teachers meet in a morning huddle at 7:30 a.m. to share announcements, praise and reminders. On Fridays, students have half days and teachers spend the rest of the time in professional development, working collaboratively and going over student grades.
"The No. 1 impact on a child's learning is the teacher in that classroom," Gerrish said. "I intentionally hired people who have extraordinary capacity."
Nationally, public school teachers are overworked and stretched thin. At Prep, just as the boys have extended school days, so do teachers. Many of them run extended learning groups, like Gerrish's book club, after the regular school day, and four of them are in charge of a homeroom set of boys, named for the colleges they attended - Arizona, Fisk, Harvard and Tennessee.
The school shares staff members, including physical education, development staff, communications and more with CGLA, which Swafford said helped with a smoother start.
But most of Prep's staff said the work is hard, and it would be harder without a passionate, collective team.
"I was excited to challenge myself," said Jacobs of the reason she left Ooltewah High to help at Prep. "When I heard what [Gerrish] was trying to do here and of these boys and the vision, I just felt a call to be a part of that."
Prep's teachers don't have desks in individual classrooms, instead they have a collaborative faculty workspace with individual work stations where you'll find them during off periods. Because the school has an exceptional education teacher who works with about a dozen boys and an English as a second language teacher, sometimes two teachers will work collaboratively in a classroom.
The guided reading and guided math teachers also work with the boys' English and math teachers to help double up on fundamentals.
Most of the staff work together to provide consistency for themselves and for the boys, through consistent procedures, rules and expectations.
"We stay really consistent with the boys," said Megan Leonard, the school's science teacher. "About what our expectations are for them and for ourselves. Consistency is how they feel comfortable, and with that we try not to let any of those distractions from outside of school come in."
Gerrish said the school wouldn't be successful without his staff.
"We definitely wouldn't be doing what we are doing if we didn't have teachers who are passionate and excited," he said.
Instruction: Data-driven, proven outcomes
The strict structure and double helpings of reading and math could already be paying off for Prepsters, school staff say. Students are already showing growth, according to benchmark tests that mirror the state's TNReady tests taken at the end of the first and second quarter.
When they started the school year, 17.4 percent of the boys were testing on track or above in English. As of December's benchmarks, more than 35 percent of the boys are scoring at grade level.
Math scores were better as well: 17.2 percent of students were on track last year, now 52.3 percent are.
The data, broken down by subject area and student, is posted in the faculty workspace, and Gerrish and his teachers review the data every week and every quarter. Even the boys have one-on-one conferences with a faculty member each quarter to discuss grades, scores and set individualized goals.
Data-driven instruction is the final, key characteristic needed for a successful school, Gerrish said.
This year, the entire Hamilton County school district is using these wide-scale benchmarks for the first time. Swafford rolled them out a year ago at CGLA.
"We don't just teach to the test," said Bryan Mann, the school's math teacher and weekly presenter of the Grit Belt. "But the data show us, is there a student who needs a little more help?"
Wright enjoys being able to strengthen her instruction by tracking what concepts the students are grasping and ones they might not.
"I think it's incredible, what we are doing with data," she said. "It was an eye-opening experience to see what we could do with the data and what we could hone in on. We as a team spent an entire day digging into it, and that is what were using to drive instruction."
Whether the informed instruction, the strict procedures and the data itself pays off is yet to be seen. Whether the school gets boys on track, keeps them on track and prepares them for college and careers is knowledge that is months and even years away.
But the community is passionate about the school.
Angela Fasalora said she doesn't know where else she would send her son, Ian Morgan.
"Everything is geared toward helping them succeed," she said. "I have friends whose kids go to McCallie [School] and Girls Preparatory School, and I think they are getting an education at Chattanooga Prep that rivals that. ... We shouldn't have to pay $30,000 a year for our kids to get a quality education."
Dozens of men across the community have rallied to be paired as one-to-one mentors with the students, taking them to football games or soccer games, and community organizations have rallied together to form a chess club, a soccer team.
And at least a few boys have already had their moments in the spotlight - like D.J. the day he earned the Grit Belt.
For a week, the tiny sixth-grade boy got to wear the flashy, red belt around the school, his teachers sometimes helping adjust it and hold it in place by fastening a paper clip to the back of it.
"When I saw other people get the Grit Belt, I would reflect on that and picture myself in it," he said. "So I would work harder, pay attention and raise my hand more in class so I could get it."
"When they called my name, I didn't know what to say, because I was so excited," he added.
Contact staff writer Meghan Mangrum at mmangrum@timesfreepress.com or 423-757-6592. Follow her on Twitter @memangrum.