WRCBtv.com | Chattanooga News, Weather & Sports
During the opening day of trial Tuesday, prosecutors said evidence would show Johnthony Walker was speeding and on the phone when he crashed his school bus, killing six elementary students.
Shortly after that, the 25-year-old's defense attorney got a state witness to say one of those things wasn't true.
"You certainly weren't on the phone with Mr. Walker at the time of the accident, were you?" defense attorney Amanda Dunn asked Takiesha Nixon.
"I was not," Nixon said.
If you're not into reading, you can listen to me explain some of the updates here: pic.twitter.com/K8rHfHhRDi

— Zack Peterson (@zackpeterson918) February 27, 2018
For more than a year, prosecutors have said Walker was speeding on Talley Road on Nov. 21, 2016, when he lost control of the vehicle, tried to overcorrect, and then overturned, his bus wrapping around a walnut tree with 37 Woodmore Elementary School children onboard. As a result, six children died and several more were injured.
But in December 2017, Hamilton County District Attorney General Neal Pinkston said cellular data showed Walker received a nearly four-minute phone call at 3:17 p.m. That new information put Walker on the phone at the time of the 3:20 p.m. crash.
But Nixon, who worked with Walker at his second job at Amazon, said their phone call wasn't that long.
Nixon said she called Walker on Nov. 21, 2016, and asked if he was driving. When Walker said yes, Nixon said she told him to be careful and hung up. Nixon said she didn't like talking to people while they were driving because of a personal experience. She didn't hear kids or a crash. Their call lasted seconds, not minutes.
"Maybe his line didn't hang up," she said.
Photo Gallery
Tri-Lakes December 13, 2009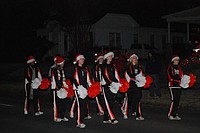 Tri-Lakes December 13, 2009
To support that point, Dunn pulled two text messages Nixon sent to Walker on Nov. 21, 2016, and then the next day, when Walker was in custody for the crash and separated from his phone. "Text me when you wanna talk, whenever you're done," Nixon wrote around 3:21 p.m. on the crash day. If she'd known about the crash, Nixon probably would have sent a different message, Dunn argued.
The Chattanooga Police Department had those messages within a week of the crash, Dunn said. But they never spoke to Nixon until recently, the defense attorney said.
The same was true with another state witness who observed a second vehicle on the scene, Dunn said.
Chattanooga officers took a statement from Michelle Brogdon, who said she saw a white vehicle steering into Walker's lane as they both traveled along a curve on Talley Road that day. Brogdon said Walker could have been speeding, since the wording on his bus blurred. Normally, Brogdon said, she could read the writing.
After the crash, Brogdon said she went to the scene and saw a male driver get out of the white vehicle and make a phone call. It's unclear if he called 911, but the state played no such recording Tuesday.
The police department, however, never reached out to Brogdon until November 2017, a year after the crash, Dunn said. That was three months after Dunn wrote in a public court document that a second vehicle may have contributed to the crash.
Adam Cavitt, an investigating officer, didn't dispute that timeline. He said there was no physical evidence on the scene to support the second vehicle theory. Cavitt also interviewed three drivers from a driving company he suspected and none of them were on Talley Road that day, he said.
Dunn countered that none of those men matched the physical description Brogdon gave. Dunn said officers had Brogdon's information - they just never called once they had their arrest with Walker.
During a previous hearing in 2016, Chattanooga officer Joe Warren said he analyzed tire marks on the scene and was able to determine Walker was traveling about 50 mph in a 30 mph zone. Warren never mentioned the second vehicle during that hearing and said Tuesday he didn't see how it was relevant.
When Dunn questioned him further, Warren said the second vehicle helped him understand the whole situation. Still, "I have a bus that's speeding and out of control," he said.
Dunn, who disputes that speed, spent most of the afternoon Tuesday debating the methodology Warren used to determine that number. Citing accredited studies on traffic reconstruction, Dunn said Warren didn't use a preferred way of testing. The officer said he'd used his way and the preferred way, compared the results and found no discrepancies.
Warren was the last person to testify before Hamilton County Criminal Court Judge Don Poole dismissed jurors for the night. The trial continues today before Poole at 9 a.m.
Walker faces six counts of vehicular homicide, seven counts of assault, 17 counts of reckless aggravated assault and one count each of reckless driving, reckless endangerment and use of a portable device by a school bus driver.
Contact staff writer Zack Peterson at zpeterson@timesfreepress.com or 423-757-6347. Follow him on Twitter @zackpeterson918.
Tweets by @zackpeterson918