Photo Gallery
Deffenbaugh, Moore debate job creation in Rossville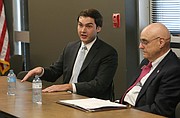 State House candidate Colton Moore said Republican leaders set themselves up for failure after their feud with Delta Air Lines this year.
Moore, who is running against incumbent State Rep. John Deffenbaugh, said that denying the airline a requested jet fuel tax break sent a signal to other prospective businesses: You don't toe the line with our politics, we won't play ball with you. Specially, Moore believes the state missed a chance to land a new Amazon headquarters. (The company has listed Atlanta as one of 20 finalists for the investment, which it says will bring 50,000 jobs.)
"Amazon is a little of a left-leaning company," Moore, who is running as a Republican, said during a meeting with the Wilson Road Neighborhood Group on Wednesday. "So why would they be coming to a state, if that state is going to punish them for their political beliefs? That's 55,000 jobs that I think we can pretty well kiss goodbye just because of our elite politicians."
The state legislature first gave Delta a break on its jet fuel tax in 2005, when it allowed the company to pay 3 percent instead of 4 percent. In 2015, as part of an effort to add more infrastructure funding, the state cut that exemption. This year, Delta requested a new break, which would have amounted to about $50 million a year.
In February, after the mass shooting at a high school in Parkland, Fla., Delta ended its discount for National Rifle Association members. A company spokesman said it was trying to remain neutral on the gun rights debate. But led by Lt. Gov Casey Cagle, Georgia Republicans stripped Delta's requested benefit from a broader tax relief bill.
Two weeks ago, Cagle told the Times Free Press the dispute with Delta was a family "squabble." He does not regret the fight, even if it impacts Amazon's decision.
"I'd love to see Amazon come here," Cagle said on May 4, during a campaign stop in Fort Oglethorpe. "But at the same token, our values are not for sale. I think we can have great economic prosperity, as we have, and embrace diversity of thought."
Moore and Deffenbaugh will face each other in the Republican primary on Tuesday. There is no Democratic candidate in the race, so the winner will take the seat. District 1 consists of Dade County and parts of Walker County, including Rossville.
During Wednesday's event, Deffenbaugh did not express an opinion about the Republican leadership's feud with Delta. He said he believes the airline will receive the tax break, eventually.
David Roden, founder of the Wilson Road Neighborhood Group, asked Deffenbaugh what he has done to bring jobs to the community.
"If you want an individual job or a company that I know that came in here, I can't supply that to you. I don't know what that is," said Deffenbaugh, who has been in office since 2013. "But I do know that ... there is some jobs that are planned on coming here or will eventually come."
He added that he would attend a forum on development in rural communities in Ringgold at 10 a.m. this morning.
Moore shot back that Deffenbaugh's efforts are not enough: "If we're going to have to depend on state-sanctioned workshops to bring in new economic development, then I wish us all luck. I don't see that happening, and I haven't seen it happen any time that I've been alive."
While not providing specifics, he said the state needs to get rid of some regulations on businesses, arguing that will allow residents to grow their companies and increase the tax base.
He did say the state needs to regulate public education less and give teachers more free rein in the classroom. He also criticized school systems that push for their students to receive industry certification in certain areas because he said that forces teachers to spend too much time filling out stacks of paperwork.
Contact staff writer Tyler Jett at 423-757-6476 or tjett@timesfreepress.com. Follow him on Twitter @LetsJett.