Photo Gallery
Deffenbaugh, Moore debate job creation in Rossville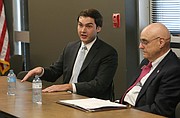 State House candidate Colton Moore said Republican leaders set themselves up for failure after their feud with Delta Air Lines this year.
Moore, who is running against incumbent State Rep. John Deffenbaugh, said that denying the airline a requested jet fuel tax break sent a signal to other prospective businesses: You don't toe the line with our politics, we won't play ball with you. Specially, Moore believes the state missed a chance to land a new Amazon headquarters. (The company has listed Atlanta as one of 20 finalists for the investment, which it says will bring 50,000 jobs.)
"Amazon is a little of a left-leaning company," Moore, who is running as a Republican, said during a meeting with the Wilson Road Neighborhood Group on Wednesday.