Photo Gallery
Lead site cleanup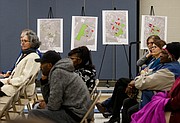 Public health officials are concerned about the impact elevated lead levels across the Southside Chattanooga Lead Site will have on children, they said at a Thursday community meeting with the Environmental Protection Agency.
The agency and health experts are warning residents of Cowart Place, Jefferson Heights, Southside Gardens, Richmond, Highland Park, Oak Grove and East Lake to get their children tested.
"It's very important we take this seriously and do the best we can to limit our children's exposure to lead," said Rebecca Gotham, with the Tennessee Department of Health's Lead Poisoning Prevention Group.
Lead can cause damage to the brain and nervous system, slow growth, learning, behavioral, hearing and speech problems in children. The EPA believes children have a 90 percent probability of suffering from elevated lead levels if they played in the most contaminated yards.
Other lead poisoning experts attended the meeting to learn about the ongoing problem and see what the EPA is doing to fix it. Faye Ralston, program manager for the city's lead safe and healthy homes program, and Dawn Ford, an assistant professor at the University of Tennessee at Chattanooga who researches childhood lead poisoning, attended and are asking residents to be aware of the problem and get their children tested. The two are pleased with the EPA's response and working with the neighborhoods to encourage testing.
"We're trying to make the community aware of the lead poisoning potential of this situation," Ford said. "We've surveyed residents over the last several years, and they still seem largely unaware of the situation. It's critically important that they get their children - especially those under the age of six - tested for lead poisoning, and many of them have not."
Residents interested in testing their children should reach out to the Chattanooga-Hamilton County Health Department or Tennessee Department of Health, Gotham said.
The full remediation of the Southside Chattanooga Lead Site could take three to five years and cost up to $26 million, according to the EPA, but it stands by its decision to remediate all properties with elevated lead levels in the Chattanooga neighborhoods.
"We have seen very high concentrations of lead in some of these yards," site project manager Robenson Joseph said.
The agency gave an overview of its plan at a public meeting Thursday evening at the South Chattanooga Community Recreation Center. Officials are now asking for public feedback as they move forward with remediating the most affected properties.
The proposal involves excavating impacted yards, dumping the soil off-site and replacing it. Soil would be excavated up to two feet to ensure lead contamination is fully removed. It then would be taken to a yet-to-be-determined EPA-approved site after testing to determine if the soil needs to be disposed of as a hazardous waste. The clean replacement soil will then be graded and fully restored.
There are about 3,600 sites in the neighborhoods that need tested. So far, the agency has tested about 400 properties and found elevated lead levels in 80, according to Joseph. In total, they estimate about 1,100 yards will need to be excavated.
However, the EPA needs approval from property owners or tenants before testing. Residents can sign up for testing on the EPA website.
The Southside Chattanooga Lead Site was added to the Superfund National Priorities List -a list of the country's most polluted places - in September. The designation opened additional funding opportunities and gave agency officials the ability to remediate more properties. The threshold for remediation that sat at 1,200 mg/kg was then lowered to 360 mg/kg, meaning all yards with lead levels above the EPA safety benchmark will be cleaned.
"I think each and every area with contamination needs to be cleaned up," Terry McCullough with the Southside Oak Hills Neighborhood Association said. "I think EPA will be a good force to enforce the cleanup concerns, to spearhead this."
The EPA's proposed plan was finalized Nov. 1, which began a 30-day public comment period. The agency will issue a record of its decision once the public comment period ends Nov. 30. At that point, officials will go in front of a national priority panel that will determine how to proceed; then comes remedial design and action.
The agency plans to continue excavation on properties in the spring or early summer of 2019.
Contact staff writer Mark Pace at mpace@timesfreepress.com or 423-757-6659. Follow him on Twitter @themarkpace and on Facebook at ChattanoogaOutdoorsTFP.