Photo Gallery
District 8 changes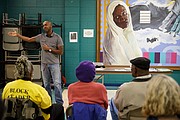 I want you to put yourself in our shoes in Avondale.
Horrible roads. High taxes. A severe lack of affordable housing. Speculative real estate purchases left vacant and drawing crime. A seething anger over the historic disregard for African-American neighborhoods by the business and political establishment.
The list of residents' complaints at District 8's "Coffee with a Councilman" was long.
"I want someone who will bite and get our rights fulfilled," said Cynthia Stanley- Cash, president of the North Brainerd Neighborhood Association. "Now we have to train a new person. There are people behind you, watching that seat. People want these seats, and we want minority representation. Good leadership is what we demand."
Still,