Photo Gallery
Ooltewah residents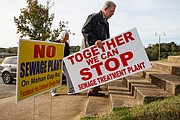 North Ooltewah neighbors were a bit more polite but not any less adamant Tuesday than last week in rejecting the idea of a new sewage treatment plant.
More than half the bleacher seats in the Central High School gym were filled for the second public hearing on the proposal by the Hamilton County Water and Wastewater Treatment Authority to build the plant on Mahan Gap Road.
A third and final hearing is set for 5:30 to 7 p.m. Nov. 8 in the same location.
Some two dozen speakers stood up one by one to roundly condemn the idea of putting a sewage treatment plant in an area of 3,500 homes and at least two elementary schools. And they said it's unfair for them and their neighbors to face shrinking property values, possible health hazards and sewage stink when the plant mainly would benefit others.
The WWTA and its consultants say the 157-acre site is the least costly because it offers more gravity drainage and less need of expensive pump stations to collect wastewater and release clean water into the Tennessee River.
The $45 million plant is just part of some $245 million the county is going to have to spend over the next 20 years to meet requirements of the Clean Water Act, said Scott McDonald, an engineer with consultant SM&E, which works for WWTA.
"That's a very conservative estimate, what we as county residents are going to be on the hook for," McDonald said.
And County Mayor Jim Coppinger, while emphasizing that the wastewater authority is an independent agency with its own governance, said he and other top officials have been negotiating with the U.S. Department of Justice and Environmental Protection Agency over enforcement of Clean Water Act regulations. The city of Chattanooga already operates under a consent decree with those agencies and is working on a $250 million, 10-year plan to reduce pollution to the Tennessee River from sewage overflows.
The neighbors filling the bleachers didn't disagree that the plant is needed, but they're in rock-solid agreement they don't want it where they've built homes and lives.
Moving the plant to a site near the Birchwood Landfill or somewhere to the north would cost $18 million to $21 million more, McDonald said.
Fine, we'll pay it, said several speakers. Their estimates of the added cost divided by the WWTA's 30,000 or so customers ranged from a low of about $35 a year to a high of around $75.
"Are the thoughts, are the wishes and the desires of all the people in this room not worth $100 a year to all the people that would take advantage" of the new plant, North Heron Bay homeowner Brent Smith asked, to applause and cheers.
One speaker said even a 5 percent loss of value spread over all those homes could be as high as $30 million, and asked whether WWTA had factored that into its calculations. McDonald was roundly booed when he said the authority would need to see studies proving a hit to property values from such a plant.
"Anywhere we put a wastewater treatment plant is going to be in somebody's backyard," McDonald said.
Susan Anderson, who lives on Mahan Gap, said cost is a factor but not the only one.
"If the lowest point in the county were Coolidge Park, you wouldn't put a sewage treatment plant there, you'd put it someplace else," Anderson said.
Dave Berber, who lives on Long Savannah Road, said that the extra $18 million to $21 million "can be added to the fees paid by the users rather than riding the backs of those of us who have property."
When McDonald said raising rates might harm people living on fixed incomes in smaller towns like Red Bank, Berber added, "For everybody that needs help in Red Bank I would be happy to help pay their sewer bill."
The meeting was supposed to be over at 7 p.m., but the irate crowd demanded to hear their elected officials' positions.
"You can count on me to support you as far as I can go," said County Commissioner Chester Bankston, who represents the area.
Coppinger tried to pour oil on the roiling waters.
He said the county, under the gun from federal authorities, will have to make some controversial and costly decisions, but that it's early in the process.
"Nobody's locked in on that one site," he said, adding, "It's the best solution but it's not the only solution,"
He urged everyone to "take a deep breath and realize this is not a done deal."
"Growth is a good thing, but it comes with a lot of pains and we're seeing that now."
Contact staff writer Judy Walton at jwalton@timesfreepress.com or 423-757-6416.s