Photo Gallery
Water war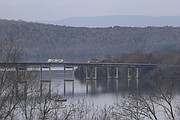 In one of the longest-running fights in U.S. history, Georgia legislators once again will try to pull water from the Tennessee River.
The General Assembly passed a resolution last week to form a study committee that will negotiate with elected officials in Tennessee and North Carolina. Failing that, the lawmakers could present other recommendations for trying to get access to the river.
State Rep. Marc Morris, R-Cumming, sponsored the resolution. He argued the state should get access to the water for a couple of reasons. First, a surveyor mistakenly drew the border between the states incorrectly 201 years ago, blocking Georgia's access to the water. The states need to finally right that wrong, Morris said.
Also, some Georgia creeks run up into the Tennessee River. That is the Peach State's precious liquid, stolen.
"We have rights to our water," Morris said. " ... We need to get people to the table. I would rather us work these issues out among the states than have [Washington,] D.C. work it out for us."
Georgia Sen. Jeff Mullis, R-Chickamauga, was one of two elected officials to vote against Morris' resolution in his chamber. He does not want to take such an aggressive stance.
"If you don't agree with your neighbor on an issue, you need to go to the fence line and talk to them," he said. "Or the two governors need to talk."
His counterpart on the other side of the border, Tennessee Sen. Todd Gardenhire, said pulling water from the Tennessee River to Atlanta would be a logistical nightmare. State officials would need to run the water from Lookout Valley, over Lookout Mountain and into a pump station in Trenton. Then they would need to run a pipe through Summerville into Atlanta. The process would cost tens of millions of dollars - not including maintenance on a line about 130 miles long.
Gardenhire, R-Chattanooga, laughed when he heard Mullis voted against the bill. He said he previously had a conversation with the Chickamauga senator, and Mullis knows his position.
"You can run that pipe right below the Moccasin Bend Treatment Plant," Gardenhire said, "and you can have all the water you want."
The fight between the states has simmered since 1818, when a surveyor improperly drew the boundary between Tennessee and Georgia, giving the Volunteer State an extra mile to the South. The mistake blocked Georgia's access to the Tennessee River. The Georgia Legislature has voted to negotiate dozens of times, going as far back as 1887, according to the Atlanta Journal-Constitution.
Those attempts have gone nowhere, as Tennessee leaders have no incentive to give up water and Georgia officials have not been interested in taking the case to court. Last year, the Georgia Legislature voted to form a similar committee.
The House appointed four members last summer. The Senate didn't appoint anybody until the end of the year, when the commission's term was about to expire. State Rep. Eddie Lumsden, R-Armuchee, the House's chairman on the committee, said they held one conference call. They also might have sent a letter to Gov. Bill Haslam's office. Lumsden isn't sure.
"The committee had a deadline," he said. "It's over. As to whether there will be further action, I just can't tell you. That's up to [Speaker of the House David Ralston]."
State Rep. Jason Ridley, R-Chatsworth, a member of last year's committee, was not optimistic. He said the best option would be a written agreement between Georgia and Tennessee officials.
State Rep. Colton Moore, R-Trenton, hopes to join the committee, though he doesn't think Ralston would appoint him. (Moore was one of 10 representatives to sign a petition calling for Ralston's resignation this year.) Still, he thinks committee members will like his sneaky solution.
Moore said the state owns the right of way on the railroad line that runs over Nickajack Lake. He believes Georgia can run pipe next to the railroad and dip into the water.
"Instead of us trying to sue Tennessee, we should be proactive," he said. "Maybe Tennessee should try to sue us."
Historically, Tennessee officials have not taken these calls seriously. In 2008, Gov. Phil Bredesen famously asked an Associated Press reporter, "This is a joke, right?" That same year, Chattanooga Mayor Ron Littlefield ordered his aide, Matt Lea, to wear a coonskin cap and drive a truck filled with bottled water to the Georgia State Capitol.
In 2013, a spokesman for Haslam told the Times Free Press he was not interested in an agreement.
Gil Rogers, director of the Southern Environmental Law Center's Georgia and Alabama offices, told the Times Free Press that Georgia doesn't need another water source so much as it needs to protect its current rivers and lakes. He said Georgia officials would be wiser to increase funding for the Environmental Protection Division to more thoroughly monitor its water sources. The EPD also could punish groups that pollute or take in more water than they are allowed.
Georgia has been engaged in similar "water wars" with Florida and Alabama since 1989. After the U.S. Army Corps of Engineers issued contracts to Georgia municipal water-supply providers, allowing them to draw from Lake Lanier and Lake Allatoona, Alabama sued the Corps. The state argued the agency ignored environmental impacts on downstream states.
Florida and Georgia joined the lawsuit. Eventually, all parties set the case aside to study water issues on two basins in Georgia. The three state legislatures approved a compact, which Congress ratified in 1997. But negotiations broke down, and the parties were back in court by 2004.
Legal battles have continued since. Florida sued Georgia in 2013, with Gov. Rick Scott arguing that Georgia used too much water and killed North Florida's oyster industry. Last summer, the U.S. Supreme Court voted to remand the case to a special master, who will try to sort out the legal arguments.
On the issue with the Tennessee border, Rogers expects the committee to "completely fizzle out" again.
"I wouldn't be surprised if this committee barely met," he said. "There is a realization that it's just futile to think Tennessee is going to just roll over and give us all that water. It's insane. That takes away serious thinking. We have water constraints in Georgia. Let's figure out how to manage those."
Contact staff writer Tyler Jett at 423-757-6476 or tjett@timesfreepress.com. Follow him on Twitter @LetsJett.