Photo Gallery
East Ridge stadium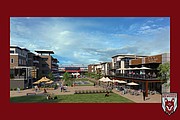 The owner of the Red Wolves soccer team hopes to score with his new East Ridge stadium by attracting visitors and residents to an array of restaurants, apartments, hotels, condominiums and stores to be built around the 5,500-seat facility.
Bob Martino, the owner of Star Community Builders in Park City, Utah, and owner of the USL One soccer team in Chattanooga, said Thursday he plans to eventually build or attract up to $125 million of entertainment, housing and hotel projects on the roughly 100 acres he has under contract to buy along Interstate 75 and Interstate 24.
Martino's plan includes 400 apartment and condominium units, 375 hotel rooms, 475,000 square feet of commercial space and a network of walking and nature trails that could connect under I-75 with Camp Jordan on the other side of the freeway from the site.
"We're really focused on a community where you can work and play with access to Camp Jordan and the visibility of Interstate 75," Martino said. "We were looking for a large area where we could have a mixed-use community around the stadium. The objective is to create an area that thrives when there are soccer games, but also is very attractive on other days to walk in a pedestrian-friendly area with options for lunch or dinner or other recreation opportunities."
The project, as proposed, will be the biggest investment ever in East Ridge and is projected to create up to 1,200 jobs and generate up to $7 million of additional tax revenue. It is located within the border zone in East Ridge, which allows the city to recapture the growth in sales tax collections within the zone and then plow those funds back into repaying investments in the area, including the planned $6 million stadium.
But Martino, a 54-year-old developer who has built even bigger communities in Utah, said he isn't waiting on any financing plan to begin work on the new stadium. Engineers are working to develop a plan for the site, some of which lies in a floodplain, and to create a pedestrian connection with Camp Jordan on the other side of I-75, where Martino is also building a training facility.
Martino said he considered several sites in and around Chattanooga but picked the vacant property on the southwest corner of I-75 and I-24 because of its access, visibility and availability.
East Ridge's border zone tax benefits could help pay for part or all of the stadium costs over time, but Martino gave up some of the federal Opportunity Zone benefits offered at other sites near downtown Chattanooga and on the city's Southside.
East Ridge Mayor Brian Williams said the proposed complex is "an extraordinary project," adding that it will be "a game-changer" for East Ridge due to increased sales and property tax revenues.
Williams said he expects "a halo effect" to occur, with Martino's investment spurring others nearby.
"It will inspire other development," he said. "Bob Martino could have put this stadium and development wherever he wanted, but he chose our community, and we are so appreciative."
Williams said negotiations are underway with Martino over the border zone incentives, which could reimburse the developer's expenses up to 20 years. No city tax money is earmarked for the project, the mayor said.
John Healy of the development group Exit One LLC, which helped woo Bass Pro Shops and a Hampton Inn to a tract at Ringgold Road and I-75, said he's "thrilled" by Martino's proposed new development nearby.
"We think it's a great addition to that area to bring families to athletic events, to Camp Jordan Park and Exit One," Healy said.
He said he doesn't see Martino's complex as competition to what his group is trying to do in East Ridge.
"Exit One has the potential to draw from the region," Healy said. "I'm glad Bob and I share the same vision."
Martino has optioned to buy the property, most of which is owned by Chattanooga businessman Henry Luken, who said he holds about 60 acres of the proposed site. Luken acquired the property along with dozens of other buildings and sites downtown and in the Eastgate Office Park when he acquired most of of the real estate holdings of Bob Corker before Corker ran for the U.S. Senate in 2006.
"This property is in the border zone and it's time for somebody to develop it," said Luken, who said he is in the process of selling off most of his Chattanooga commercial properties. "He (Martino) is still in a due diligence period, to the best of my knowledge."
BY THE NUMBERS
› $125 million: Projected total investment in the property› 100 acres: Approximate size of the site under contract along I-24 and I-75 in both East Ridge and Chattanooga› 400: Number of planned apartment units› 375: Number hotel rooms with 35,000 square feet of convention space› 475,000 square feet: Amount of planned of commercial space including in the stadium› 5,500: Seating capacity of the new Red Wolves stadium› 1,200 jobs: Projected employment from the development, not including construction and other businesses› $6 and $7 million: Additional tax revenue expected to be generated by the projectSource: Red Wolves SC
Martino said the site could be accessed on North Mack Smith Road off of Spring Creek Road near the Parkridge East Hospital or from Mack Smith Road off of Ringgold Road near the I-75 interchange.
"Being right on I-75, we get a lot of commuters from the north going down to Florida and they find this as a good midpoint and an easy and attractive place to stop off at with hotel accommodations, dining experiences and a fun environment," Martino said.
State House Rep. Esther Helton, R-East Ridge, said the complex is "going to change East Ridge, probably forever."
"This will take the city to another level," she said. Helton said the new revenues can be used to aid the west end of the city, boosting beautification and other efforts.
Kenny Custer, East Ridge's interim city manager, termed Martino's plans "an amazing opportunity. This is over the top."
He said the project is on the radar of the East Ridge Planning Commission, which will look at the rezoning of the property from residential to commercial.
The Chattanooga-Hamilton County Regional Planning Agency also will be expected to take up the proposed project, as well.
Hamilton County Commissioner Tim Boyd, who represents East Ridge, called Thursday's announcement "very exciting."
"I have been waiting for over 25 years to see this land developed," he said. "This will be a destination location that hundreds of thousands of travelers along I-75 will visit."
Contact staff writer Dave Flessner at dflessner@timesfreepress.com or Mike Pare at mpare@timesfreepress.com.
Photo Gallery
Daily Photos 04/19/2008