Photo Gallery
Confederate monuments protection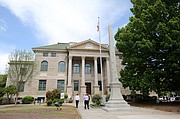 CHICKAMAUGA, Ga. - Next door to a plantation built by slaves, Gov. Brian Kemp defended Georgia's Confederate monuments as educational resources while he signed a bill to further protect them Friday.
"It is true that there are monuments in our history that do not reflect our values," he said, during a ceremony in front of Gordon Lee High School. "We cannot erase them from our history. We must learn from them. These monuments and markers remind us of how far we've come not only as a state but as a country."
Sponsored this year by state Sen. Jeff Mullis, the legislation allows local governments to sue vandals who deface monuments for up to three times the value of the damages. To the displeasure of some Democrats, the law also bans moving monuments from a prominent location to a museum.
If local officials choose to move monuments, they have to put them in "a site of similar prominence." The law is not explicitly about Confederate monuments and applies to all plaques, statues and flags that celebrate religious, political, cultural or military figures.
During his speech, Kemp never mentioned the Civil War by name. Instead, he discussed military veterans of the world wars, as well as wars in Korea, Vietnam, Afghanistan and Iraq. He also said the law protects monuments that honor first responders and civil rights leaders.
"This bill will make a lasting impact on countless Georgians," he said.
Mullis, R-Chickamauga, introduced the governor to begin the ceremony.
"Brian Kemp is a man of integrity," he said. "He has done a phenomenal job in keeping promises and working for the people."
The Gordon Lee Mansion stands next to the school where the ceremony unfolded, built out of brick by slaves in the 1840s, according to the National Register of Historic Places. James Gordon and his brothers moved to the area from Gwinnett County after purchasing property in the Fractions Lottery, in which the state sold what had been Cherokee land.
John Culpepper, Chickamauga's former city manager and a local historian, estimates Gordon owned about 50 slaves. Gordon's son fought for the Army of the Confederate States in the 1st Georgia Infantry Regiment.
According to a monument in front of the Gordon Lee Mansion, Gordon's son helped organize and train a militia for the Confederacy in April 1861. After the group joined a regiment in Tennessee, Gordon's son served as a lieutenant colonel.
Gordon's grandson, Gordon Lee, represented northwest Georgia as a congressman from 1905-1927, when he died. According to the Georgia Encyclopedia, Gordon Lee left 15 acres and about $250,000 to the city to build a high school.
In December 2007, Culpepper said, vandals tipped over an obelisk in honor of Gordon, breaking it. He did not believe the monument was targeted because of Gordon's status as a slave owner. Vandals attacked other unrelated markers in the area that night.
Mullis' law came at the same time that some Democrats tried to remove Confederate monuments. State Rep. Renitta Shannon, D-Decatur, introduced a bill to block public money or public land from being used for any such markers. Her bill did not make it out of committee.
State Sen. Elena Parent, D-Atlanta, introduced a bill to move control of monuments from the state government to local governments. Her legislation also did not make it out of committee.
A 30-foot-tall obelisk on the courthouse square in Decatur motivated Parent. Erected in 1908, the inscription on the monument refers to Confederate soldiers as "a covenant keeping race." The DeKalb County Commission voted to remove the obelisk in October 2017, but the measure did not lead to action.
"Maybe they don't all need to go," Parent said from the chamber floor before the Senate passed Mullis' bill in March. "But I don't think they all need to stay, either."
NAACP DeKalb County Branch President Teresa Hardy also pushed to change the law. She does not oppose the increased financial penalties that Mullis' law creates. But she said her community should have the ability to move a structure celebrating the military that defended slavery.
"We're going to keep fighting for local control," Hardy said. "Just because [Kemp] signs it does not mean we can't change that law."
In addition to the monuments bill, Kemp signed a bill by Mullis that allows property owners to pay their local taxes early. He also signed bills by state Rep. Dewayne Hill, R-Ringgold, state Rep. Eddie Lumsden, R-Armuchee, and state Rep. Jason Ridley, R-Chatsworth.
Contact staff writer Tyler Jett at 423-757-6476 or tjett@timesfreepress.com. Follow him on Twitter @LetsJett.