Photo Gallery
2018 Rain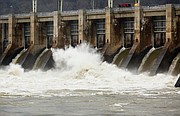 A rainy end to December catapulted 2018 into the top 10 wettest years on record, and it didn't stop there.
There was more rain the last two weeks of the year than the Tennessee Valley typically sees in a month - even during the wettest months. That rain, combined with steady storms from spring on, made 2018 the wettest year on record for the Tennessee Valley and one of the wettest years in the history of Chattanooga.
"We got the entire month's average in just the last two weeks," National Weather Service meteorologist Sam Roberts said.
Until then, weather experts and meteorologists expected 2018 to be a top year for rainfall, but not necessarily the top year on record.