Photo Gallery
Support for tax increase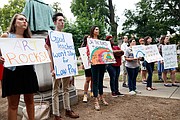 Dozens of community members, prominent business leaders and educators are voicing support for Hamilton County Mayor Jim Coppinger's proposed tax hike for public education.
More than three dozen people stood behind him Wednesday as he announced his proposed fiscal year 2020 budget and expressed his confidence in Superintendent Bryan Johnson's leadership, and more than a dozen people spoke during the public comment portion of the commission meeting - most in favor of the tax hike.
"The future of our community depends on the strength of our public schools, now is the time for investment," said Dan Challener, president of the Public Education Foundation.
Community rallies in support
Though advocates for an increase in public education Wednesday included some of Chattanooga's powerful businesses and foundations, they also included activists on the ground, students, clergy members and even one of Hamilton County Schools' former opponents.
Deborah Rausch is the mother of Luka Hyde, the student at the center of a landmark student disability rights case against the district. A longtime proponent for better special education services, Rausch said she supports the budget request.
"I believe it's necessary and the time is right for it," she said. "Money is not the be all, end all. The money is like the fuel. We have to have a good engine and then add the fuel. ... Even though I don't have a child who will be attending public schools, it is worth it. This is my community."
The Rev. Brandon Gilvin, of First Christian Church, spoke at Wednesday's County Commission meeting. He also stood alongside several clergy members during Coppinger's Wednesday news conference.
"Education inequity holds back many gifted young people from accessing opportunities as adults; it stifles the possibility of breaking cycles of poverty and it perpetuates economics segregation. Just because we don't call it apartheid doesn't mean it's not apartheid," Gilvin said. "We can't always address every single problem to the most extreme end as possible. But thanks be to God we have the opportunity to address a big one here in this school budget."
Julia Becker, a senior at Chattanooga High Center for Creative Arts, echoed Gilvin's thoughts.
"You can't expect students to rise to their potential if you aren't showing them their potential," she said. "You need investment in education to do that."
Lauren Tolbert, a recent graduate of Chattanooga School for the Arts and Sciences, said she felt like community members think public schools need more funding because the teachers are terrible. She says that isn't the case.
"I worry that people think they are trying to pass this budget because our teachers arne't doing a good job, but they are fantastic, they just need more resources to be even better."
Business leaders stand with mayor, superintendent
Since the Hamilton County school board approved Johnson's $443 million budget request in a 7-2 vote last month, the business community has been speaking out in favor of the additional $34 million in funding that the schools chief requested.
Christy Gillenwater, president and CEO of the Chattanooga Area Chamber of Commerce, endorsed Coppinger's proposed budget. Business community taxes made up 49% of the school district's 2018 operating budget, and the chamber has been vocal about the need to improve the region's workforce for the future.
Recently, the chamber polled its membership, and most members said they supported a tax increase, Gillenwater said in a statement.
"Now is the time to invest in public education," she said. "... As our county commissioners carefully consider their decisions, it is our hope that they will support what we believe is the path to a successful and prosperous future by fully funding the proposed budget."
A Power Poll conducted two weeks ago found that of the 81 civic, business and government leaders surveyed, 73% consider a property tax increase to be necessary for fiscal year 2020. The Mayor's Budget Working Group also has expressed support for more schools funding.
Dozens of business leaders, including investment executive Paul Brock; Dane and Sheila Boyington, co-founders of Thinking Media; Nick Decosimo of Elliott Davis Decosimo; Kurt Faires of Chambliss, Bahner & Stophel; Ken Hayes, developer and former head of The Enterprise Center; Alan and Alison Lebovitz; Hodgen Mainda, EPB vice president of community development; Mitch Patel, hotel mogul; Todd Womack, president and chief executive officer of Bridge Public Affairs; Tom White of Unum, among others, stood behind Coppinger as he, the superintendent and Sheriff Jim Hammond spoke at Wednesday's news conference.
Challener noted that the business community's support was emblematic of the united front in local leaders' push for additional funding for public education.
"The business leaders standing up there alongside the mayor and the superintendent was powerful," Challener added.
Not everyone supports a tax increase
Support for a tax hike is not unanimous, though.
While supporters outnumbered critics at Wednesday's news conference, some residents have consistently lobbied commissioners against approving a tax increase.
Four spoke strongly against the increase Wednesday.
Some cite concerns about the effect a tax increase would have on elderly residents who live on fixed incomes. They also argue the school district is top-heavy and needs to show further improvements and cut administrative costs before it deserves more funding.
"What needs to be recognized is there are hundreds of others that have been giving their opinion on this budget. They need to be recognized, as well. And I'm speaking on behalf of a lot of those this morning to ask you to vote no on this increase," Hamilton County resident Ronnie Ray said at the commission meeting. "We don't need it. More money is not the answer here."
Christopher Hall also spoke against the hike, especially the 5% raise promised to teachers in Johnson's budget request.
"Giving them a raise will not help with any true issues with the children," he said.
Contact staff writer Meghan Mangrum at mmangrum@timesfreepress.com or 423-757-6592. Follow her on Twitter @memangrum.