Photo Gallery
Parental leave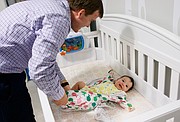 John Gandy said he will celebrate Father's Day like a lot of fathers probably will - watching golf.
While the 29-year-old and new father watches the final round of the U.S. Open in the living room of his Chattanooga home, he will also be playing with and admiring the six-month-old twins he and his wife, Jourdan, are adopting. His big Father's Day present will come a day after the holiday when the adoption of the twins, a brother and sister, is legally finalized.
John, who is an investment officer at Unum, is one of the fathers who has taken advantage of the Chattanooga-based insurance company's six-week paid parental leave program that launched in 2018. John said he was the first one on his department's team to take advantage of the new leave program starting in December when the twins were born.
A