Photo Gallery
Highland Park fitness complex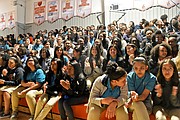 Highland Park residents and students at the neighborhood's two charter schools will soon have access to a new sports and fitness complex, complete with inclusive playgrounds, a soccer field, a basketball and tennis court and more.
The Young Women's Leadership Academy Foundation, the founding sponsor of Chattanooga Girls Leadership Academy, announced on Thursday the nearly $5 million project, which will be funded by the BlueCross BlueShield of Tennessee Health Foundation.
The project is part of BlueCross' Healthy Place initiatives and is the first site unveiled in Chattanooga.
"It's a great day in Highland Park," said Scott Wilson, director of community relations and health foundation for BlueCross.
"When I think back 10 years, what Dr. [Sue Anne] Wells started here and the people who have put the time and energy to provide the facilities that are here," he said, referring to the school's founder, "it's an honor to be a part of supporting facilities for you to have here."
"It's a wonderful partnership that will build on the great things already happening in Highland Park and these two schools," he added.
CGLA is celebrating its 10th anniversary this year. Its partner school, the all-boys charter school Chattanooga Preparatory School, launched this academic year. In the past decade, CGLA has expanded its facilities, going from a small, 22,000-square-foot building to multiple buildings. Though the school renovated its Hutton Gymnasium in 2017, it has never had full fields and fitness areas.
"Out of an acorn is about to grow a big oak tree," said Elaine Swafford, executive director of CGLA. "[The project] is going to so positively affect our Highland Park communities. Dr. Wells always said she wanted the school to be a hub for many activities in the community and we've strived for that."
Healthy Place projects are grant-funded and focus on providing active, fun facilities that enhance the health and wellness of the community. Projects are already underway in Memphis, Kingsport and Huntland, but the Highland Park space is the first in Chattanooga.
There were two grant applications in Chattanooga, but CGLA and the work happening in Highland Park stood out to BlueCross leaders.
"It's exciting to see all the great things happening here at CGLA and in Highland Park, said J.D. Hickey, president and CEO of BlueCross BlueShield of Tennessee.
The project will span about two blocks between Hawthorne Street and South Orchard Knob Avenue behind the school's campus.
Construction is slated to begin this summer and will hopefully be completed in nine to 12 months, Wilson said.
Construction will total about $4.2 million, with the rest of the investment going toward ongoing maintenance costs to keep up the facility. The Community Foundation of Greater Chattanooga will manage those funds.
"Community gathering places, green spaces and thriving, successful schools are three essential aspects of a healthy community," said Megan Morris, president of the Highland Park Neighborhood Association. "This collaboration between the CGLA Foundation and the BlueCross BlueShield Health Foundation supports all three."
Avery Love, a ninth grader at CGLA, said she was excited for the tennis and basketball courts. She plays high school volleyball but has always wanted to try out tennis. She and classmate Aniyah Clemons, also a ninth grader, live in the neighborhood and are happy about the investment in their community.
"This is really exciting to see so many come together to help Highland Park grow," Clemons said. "Seeing all the great things happening is really inspiring."
Jonaki Hood, a sixth grader at Chattanooga Prep, said it was great to see the school and other organizations come together to help the community.
He and his classmates, who are the founding class of the school, are excited for the soccer field.
When Wilson announced each aspect of the project Thursday, students screamed and cheered - sounds that will soon ring out in Highland Park's new park.
Contact staff writer Meghan Mangrum at mmangrum@timesfreepress.com or 423-757-6592. Follow her on Twitter @memangrum.