Photo Gallery
'STEM School Jubilee'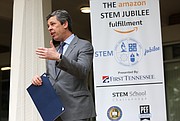 Chattanooga Mayor Andy Berke and Hamilton County Commissioner Warren Mackey stood in front of the Chattanooga State Community College Albright Omniplex Wednesday afternoon and proclaimed the day as the "Amazon STEM Jubilee Celebration of Learning Day in Chattanooga, Tennessee," but the elementary school-aged children running from booth to booth learning about science, technology, engineering and math around them were too busy having fun to stop and notice.
The elected officials could barely be heard over the excited screams and laughter of second- through fifth-grade students attending the fifth annual "STEM School Jubilee." The two-day event this week hit a record as the largest, school-based STEM event in Tennessee, with more than 4,000 students from Hamilton County Schools expected to attend.
The event's goal is to introduce elementary-aged students to a variety of STEM-related concepts through hands-on activities, and STEM School Chattanooga students organized the event themselves. In August 2012, 75 freshmen became the inaugural class of the STEM school, located in a new, high-tech facility adjacent to the Wacker Institute on the campus of Chattanooga State.
"It's not just about having a job, it's about having a job that can pay the bills," Berke said to the crowd. "It's being upwardly mobile economically, and that means making more money as your career advances and STEM careers allow you to do that. For people in our city, we really want to see that happen."
According to the Tennessee STEM Innovation Network, economic models and forecasts show that by 2024, STEM jobs in Tennessee will grow by 16 percent, and up to 18 percent in computing. Non-STEM jobs are expected to experience only 10 percent growth. Median earnings in Tennessee STEM jobs are also $32 an hour, compared to about $16 an hour for all other jobs, the organization reports.
Commissioner Mackey mentioned the number of companies in the city and county that have brought STEM-related jobs to the area, including Volkswagen and Amazon.
Chris Scanlon with Amazon's Chattanooga fulfillment center also presented the STEM school with a $5,000 check on Wednesday. The local fulfillment center employs more than 1,500 people.
"As we all know, STEM jobs are the way of the future there [was] a roughly 30% increase in pay for those folks that actually are employed in STEM. For us, it is an awesome opportunity for us to be able to invest in the community and invest in those young folks who are going to be the future of our economy."
Scanlon invited students and community members to tour the local fulfillment center, which is one of 20 in the country to offer tours. Tours take place Monday through Friday in the morning and afternoon. To learn more or schedule a tour, visit aboutamazon.com.
Contact staff writer Allison Shirk Collins at ashirk@timesfreepress.com, @AllisonSCollins or 423-757-6651.