Over the past five years, Chattanooga's economic development programs have worked to attract nearly $3.2 billion of new investment and generated 10,985 more jobs in Hamilton County, according to the Chattanooga Area Chamber of Commerce.
But with the local jobless rate near a historic low and technology disrupting many traditional industries, the Chamber and other community groups are launching a new economic development strategy to focus more attention on growing, recruiting and diversifying talent, entrepreneurs and the community assets needed in the changing 21st century economy.
Billed as "Chattanooga Climbs," the new, five-year plan seeks to elevate Chattanooga by attracting more than $1 billion of new capital investment and boosting the average annual pay in Chattanooga above $55,000.
The new development strategy is part of the overall Velocity 2040 goals that emerged from more than a year of community meetings and studies on what Chattanoogans want for the next two decades. Chattanooga Climbs broadens the focus of the Chamber's previous "Can Do" development strategy by working with more community groups and giving more attention to recruiting and developing talent for today's increasingly skilled jobs. The plan also encourages businesses to work in schools, colleges and even jails to promote more economic opportunity for all people.
Document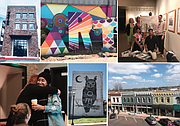 "How can we build more prosperity for all of our people?" asked Christy Gillenwater, president and CEO of the Chattanooga Chamber in a recent presentation of the new effort.
As the primary economic development agency for Hamilton County, the Chattanooga Chamber will continue to promote and recruit businesses from around the globe and the Chamber will work with the city, county, state and other private interests to develop and market local sites and entrepreneurial aid for relocating and startup businesses to find success.
Goals for Chattanooga Climbs
Over the next five years, the new campaign should generate:* $1 billion in new capital investment and $500 million of new payroll* $55,000 average wage, (compared with $52,065 in the fourth quarter of 2018 in Hamilton County)* 200 employers participating at Future Ready Institutes and education centers of excellence in automation, freight systems and health care* 1,000 employees attending diversity and inclusion training programs* 500 apprentices* 100 graduates from the INCubator at the Hamilton County Business Development Center
But the new campaign also will work to develop a private venture fund of up to $20 million to finance more startups. Such venture or seed funds should help supplement and sustain the funding pipeline for startups provided in recent years by such local venture funds as the Dynamo, Chattanooga Renaissance and Blank Slate Ventures, which have already allocated most of their funds.
"We view this as a really critical component of our strategy for the future because we know these kind of funds have been very important in other cities and how they grow," said Charles Wood, vice president of economic development for the Chattanooga Area Chamber of Commerce.
The Chamber helps operate the state's biggest business incubator on the North Shore and within Chattanooga's downtown Innovation District, the INCubator at the Hamilton County Business Development Center. Meanwhile, the Company Lab (CO.LAB), the Enterprise Center, Tech Town and LAUNCH Chattanooga operate a variety of business accelerator and assistance programs for startups. But Wood said finding capital to grow the most promising of those businesses is key to fostering more growth among entrepreneurs.
Beyond filling the capital needs of new businesses, Chamber leaders are also working to help meet the talent needs of business in one of the tightest labor markets in the past half century.
Bold ideas for Chattanooga Climbs
In the next five years, Chattanooga will develop:* A health sciences center at the University of Tennessee at Chattanooga to promote health care and bio-science research* A locally focused venture capital fund with between $10 million and $20 million* A re-entry training program to train and equip many of the more than 500 people who leave jail and return to Hamilton County every year with jobs and needed skills.* A training facility in low-income, high-unemployment areas to create a pipeline of skills to provide workers with advanced manufacturing, health care, construction and entrepreneurial opportunities.* 500 acres of brownfield sites or new greenfield industrial sites to be ready for business development in Hamilton County.Source: Chattanooga Area Chamber of Commerce, Chattanooga Climbs
Over the past decade, unemployment in metro Chattanooga has dropped from a peak of 10.2% in June 2009 to a historic low of 2.8% earlier this year, according to the U.S. Bureau of Labor Statistics. As the demand for labor skills in most jobs increases and aging baby boomers continue to retire, getting enough skilled workers has emerged as the biggest challenge for most businesses and is key to the region's growth, Chamber leaders said.
To help improve the talent pipeline, the Chamber has set a goal for having at least 200 businesses participating in Future Ready Institutes in high schools to help show students about their businesses and career opportunities.
Roy Vaughn, senior vice president at BlueCross BlueShield of Tennessee, said such business links with schools are already showing results.
"Projects like the BlueCross Technology Academies at Soddy Daisy High School and Red Bank High School show how companies can engage with our students and schools to create excitement about careers in high-tech and health care – while at the same time introducing students to new skills," said Vaughn, a past chairman of the Chattanooga Chamber Foundation.
The new Chamber plan also calls for development of a health science center at the University of Tennessee at Chattanooga to help boost health care-related businesses and suggests creating a technical training school in a low-income neighborhood to aid the development of more workers from disadvantaged communities.
The plan recommends that a training program for prison convicts or those just paroled be established to equip many of the more than 500 people who leave jail every year in Hamilton County to find local jobs and life success.
"It will take all of us working together to reach the bold goals outlined here," said SunTrust Bank Market President J.V. Vaughn, chairman of the Chattanooga Chamber this year. "One of the most important goals we can accomplish is to set the standard for inclusive, meaningful leadership. We've made progress, but we can do much more."
In the past decade, the Chattanooga region landed two of Tennessee's biggest-ever private investments from German manufacturers Volkswagen and Wacker Chemical, and EPB launched America's first citywide 1-gigabit-per-second internet service - later upgraded to 10 gigabits per second. The growth of the so-called "Gig economy" amid the longest period of sustained U.S. economic growth in modern history cut Chattanooga's jobless rate earlier this year to 2.8% - the lowest on record.
But for all its success weathering the Great Recession better than most cities, Chattanooga trailed in job growth in recent years compared with other mid-sized, growth-oriented cities. Chattanooga employment growth in the past five years trailed most of the other cities it compared itself with in the Velocity 2040 study, including Knoxville, Huntsville, Alabama, and Charleston, South Carolina, in the South and Provo, Utah, and Boise, Idaho, in the West.
The Chamber Foundation, with funding from private sector investors, hired Avalanche Consulting to help facilitate the development of its five-year strategic plan for economic development and talent initiative. Avalanche Consulting has completed similar plans for a number of other communities across the country and helped the Chamber identify targeted industries for growth.
"While we fully intend to keep championing the many advantages of our 10-Gig economy, we've also identified business sectors where we already have strengths – such as health care and logistics to name only two – so we can align our resources to grow smarter," Gillenwater said.
To fund the campaign, the Chamber is seeking to raise more than $3 million a year to help promote and implement the new development plans.
Mitch Patel, president and CEO of Vision Hospitality Group, extended an open invitation to anyone with ideas about better ways to promote more growth in Chattanooga.
"I encourage the Chattanooga community to raise their hand and approach me, approach us – the Chattanooga Chamber leadership, and say, 'I would like to help,'" Patel said. "We would love to hear from each and every person who wants to see our great community grow, prosper and improve the quality of life for all citizens of Hamilton County."
Read about targeted industries for the future:
https://www.timesfreepress.com/news/business/aroundregion/story/2019/nov/09/chattanoogchamber-identifies-target-industrie/507705/
Contact Dave Flessner at dflessner@timesfreepress.com or at 423-757-6340.