Photo Gallery
Chattanooga MotorCar Festival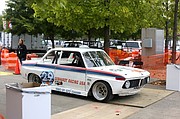 If you ever wanted to see former Coker Tire CEO Corky Coker and legendary rock star Brian Johnson racing vintage cars down Riverfront Parkway, Saturday morning at the Chattanooga MotorCar Festival was probably your one and only chance.
Johnson, the lead singer of heavy metal band AC/DC, managed to get his 1928 Bentley Vanden Plas LeMans Tourer - named "Thunder Guts" - past Coker's 1910 Nyburg roadster at the turn in one of the featured runs of the time trial competition of the inaugural event.
The Chattanooga MotorCar Festival brought hundreds of classic cars and thousands of automotive enthusiasts to Chattanooga for the two-day event put on by the DeFoor Brothers and sponsored by Volkswagen Group of America, which also used the weekend to unveil the new Atlas Cross Sport set to be manufactured in Chattanooga.
Coker was all smiles after his run with co-pilot David Geanacopoulos, senior executive vice president for public affairs and public policy for Volkswagen Group of America Inc., and he was quick to point out the Nyburg's distinction as a Chattanooga original.
"You know the interesting thing about this car," he said. "There's a really wonderful car built here in Chattanooga called the Volkswagen Atlas, but this car was the first (car built in Chattanooga). It was made right here in 1910, '11 and '12.
"It may not be the best car built in Chattanooga, but it's the first."
Coker and Johnson's run was just one of the many sights and sounds at the Chattanooga MotorCar Festival, as spectators lined the time trial course and watched the action from the Market Street and Walnut Street bridges.
After an accident Friday injured two course officials, Saturday's events appeared to come off without incident.
In a Saturday afternoon news release, event officials announced that the 59-year-old worker who had been sent Friday to Erlanger hospital in critical condition has had his condition upgraded to stable. He and a 53-year-old man were struck by a flying plastic traffic barrier after it was struck by one of the race cars performing a time trial. The 53-year-old was sent to the hospital with minor injuries and was later discharged. The driver of the car was uninjured. The trials were placed on hold for several hours as officials worked to find out what caused the accident and replaced some barriers along the course with hay bales.
Downtown near the Westin Hotel on Saturday, festival attendees were able to see hundreds of specialty and vintage cars and were able to meet some celebrity guests in town for the event. Among the special guests at the Chattanooga MotorCar festival were NASCAR legend Bill Elliot, automotive historian and former "Jay Leno's Garage" host Donald Osbourn, professional race driver and television host Tanner Faust, British race legends Brian Redman and David Hobbs, award-winning motorsports journalist Burt Levy, and Dalton, Georgia, native Linda Vaughn, known as "The First Lady of Motorsports" as well as for her appearances in classic car-racing movies "The Gumball Rally" and "Stroker Ace."
Osbourn, who served as emcee for the awards ceremony in the West Village was impressed with the event and the host city.
"This is my first time in Chattanooga. It will not be my last," he said. "The people here are absolutely amazing. They are passionate about cars, they are passionate about this event. They're so happy that it's happening. I think community support is really the most important part of any event."
Among those enjoying the ability to see these cars up close was 12-year-old Hixson resident Will Logan. Logan was eagerly checking out all the cars in the VIP area and soaking up the 100-plus years of automotive history.
Photo Gallery
Chattanooga Motorcar Festival rallye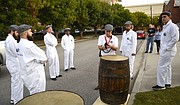 "Personally, I find it very interesting about the classic cars and what led up to them," he said after speaking to Atlanta-area car owner Jonathan Lowman about his handmade 1956 Johnny Wright Special. "I love seeing the engine types, the transmission and who made them. I just love learning about them. I find everything mechanical interesting."
Faust, who took several high-speed runs on the time trial course sliding sideways in his high-powered drift car, said that events like the Chattanooga MotorCar Festival are important to bring young people like Logan into the sport.
"I love events like this it's pretty impressive," he said. "I love being here and seeing a whole new generation of kids and car fans coming out of the woodwork.
Geanacopoulos was also quick to praise the first-time event, which is expected to add millions of dollars to the Chattanooga economy.
"There's lots of great spectators and lots of wonderful collectors from all over the country," he said. "I think it's been a huge success for a first-time event, and it's been a great thing for Volkswagen.
"Chattanooga is an important town for us, and we've been privileged to be sponsors of this event and are very grateful to be included."
The DeFoors and the rest of the Chattanooga MotorCar Festival organizers hope to make the event a yearly celebration of automotive history and innovation. Chickamauga, Georgia, resident Shawn Aiguier and his wife, Vicki, certainly hope to see the event return after having a great time in 2019.
"I'm liking it here," Shawn Aiguier said. "I actually went home and got my wife and said 'I think you might like it here.'
"I hope they keep this going, because I think this is excellent."
Contact Jim Tanner at JFTanner@timesfreepress.com. Follow him at twitter.com/JFTanner.