Photo Gallery
Riverwalk 30th anniversary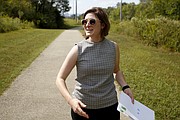 Thirty years ago, before there was the Tennessee Aquarium, before the Walnut Street bridge reopened, before Ross's Landing or Coolidge Park or the iconic West Wing of the Hunter Museum of Art, a small section of multi-use trail opened on the south shore of the Tennessee River east of what would become the city's core.
It was a concrete step in what had then been a more-than-decade-long effort by the community to revitalize downtown. The approximately 2-mile section of the Tennessee Riverpark's Riverwalk near the C.B. Robinson Bridge opened with a small ceremony of some city officials and community members in May 1989. It was to anchor a new way of life for many Chattanoogans that focused on health, the river and a soon-to-come arts district.
"It had become apparent to a lot of people that we had turned our back on our greatest asset," longtime former chief of staff for Hamilton County Jeannine Grogg said. "I think people realized that was our river."
By 1989, there had been some progress from the well-documented community meetings that launched the city's urban revitalization: notably, a five-night concert series morphed into the Riverbend Festival, but largely, many of the projects that came to define a reborn Chattanooga were still being planned or were under construction.
Through the process, the idea of a paved trail system captured the attention of the community as it became widely recommended through the Vision 2000 community planning meetings.
"Hundreds of people would come. They would divide up into small groups, and an out-of-town organization would lead the sessions. We'd talk about what we wanted Chattanooga to be; what are the needs and opportunities," Grogg said. "That's the backdrop of how this first segment opened in 1989."
The next year, work began to extend the Tennessee Riverwalk to the Chickamauga Dam, where the path now ends.
For 30 years, the project has grown largely without interruption. By 1992, the trail system connected to the just-opened Tennessee Aquarium, the expanded Hunter Museum and downtown Chattanooga.
The Trust for Public Land opened a Chattanooga office to help with the work, and by 1996 prepared a master plan for a South Chickamauga Greenway that would connect to the Riverwalk.
That project continues to this day and is expected to be completed next fall, adding a 12-mile greenway to the 13-mile Riverwalk to create a 25-mile connected trail system.
"People will be able to get from Camp Jordan to downtown. It's almost 25 miles of connected greenway," Trust for Public Land Tennessee State Director Jenny Park said. "Few people will do the whole thing, but there's a lot of places between. For instance, Brainerd students could get to [Chattanooga State Community College]."
The Trust for Public Land has been raising funds to complete that final mile, which is considered the hardest to build due to land and floodplain issues. The unfinished section divides the greenway into two sections: north to the Riverwalk and south to Camp Jordan in East Ridge.
When finished, it will complete the central trail project for the Riverwalk and its connecting trailway. From there, trail developers will turn their concentration to direct neighborhood connections. Potential projects include extensions into Alton Park, the South Chattanooga area and north of the Tennessee River toward Red Bank, Moccasin Bend and other locations.
The Riverwalk has been a boon for the local economy, according to city leaders and economists.
It has brought development, events and growth. Without it, many of Chattanooga's riverfront events, such as Ironman, the Chattanooga Marathon and the 7 Bridges Marathon, likely aren't possible.
"It makes those feasible," said Andrew Bailey, a University of Tennessee at Chattanooga professor specializing in outdoor recreation research. "If we didn't have that along the river, these events wouldn't be coming."
Those three events have brought more than $100 million to the city. The financial impact of Ironman alone has been about $13 million annually, according to Bailey.
The Riverwalk and revitalization of the surrounding area also led to developments such as Cameron Harbor. That investment is approaching $200 million and includes residential units, medical offices, restaurants, a distillery, shops and more, according to developer Aaron White, with Evergreen Real Estate.
"We wanted to create a community that brought the Riverwalk into every part of the community," he said. "The way it ties into downtown and North Shore and St. Elmo, that's been a huge draw for the homeowners and renters who live there."
Specific economic impact and visitation numbers have been hard to come by, according to Bailey and Hamilton County Parks and Recreation Director Tom Lamb. The Tennessee Riverwalk is easily accessible from a variety of entrance and exit points, making it difficult to count how many people use the system.
"We have previously stated with confidence that the Riverpark experiences over 150,000 visitors each year," Lamb wrote in an email. "The actual number could be much higher."
The department is working now to get trail counters to estimate the total number as part of a parks master plan now in the works.
"The Riverwalk is such an important part of our riverfront renaissance story - that is now told internationally," Lamb wrote in an email. "We regularly hear from communities across the country trying to build their own Riverwalk. Very few have seen the success of Chattanooga and Hamilton County in sparking new development and investment and in fostering pride from local residents."
Contact Mark Pace at mpace@timesfreepress.com or 423-757-6659. Follow him on Twitter @themarkpace and on Facebook at ChattanoogaOutdoorsTFP.