Photo Gallery
Arkansas State Fair 2006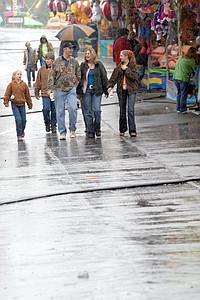 Soddy-Daisy High students will soon have access to the same high-tech, career-focused opportunities that students at Red Bank High School have.
BlueCross BlueShield of Tennessee and Hamilton County Schools announced Thursday that the school will be home to BlueCross' second Technology Academy, part of the district's Future Ready Institutes initiative.
Hamilton County Schools Superintendent Bryan Johnson went off script and broke the news at a meeting of the Rotary Club of Chattanooga earlier this year, before the location was finalized, but district officials said Soddy-Daisy teachers were eager to start preparing for the new institute as soon as they got the news.
"We know how important public education is to the health of our community and we're excited to continue supporting innovative programs for students," said Scott Wilson, director of community relations for BlueCross. "The newest BlueCross Technology Academy will help develop talent right here in our hometown, improving the lives of students and supporting our whole community."
Noteworthy guests, including U.S. Rep. Chuck Fleischmann, R-Tenn., and representatives from Microsoft, visited BlueCross' first technology academy at Red Bank High School earlier this month as part of a tour focused on computer science education.
The BlueCross BlueShield of Tennessee Foundation donated $250,000 to support the launch of Soddy-Daisy's institute. The funds will help create a unique technology lab and provide equipment like the tools that Red Bank students already use, but industry professionals will also work with teachers to plan lessons and field trips and students will have the opportunity to interact with BlueCross employees in professional settings.
"You, through this gift, are opening an entire world for our students," said Karyn Cox, assistant principal at Soddy-Daisy High, as she addressed students and BlueCross representatives Thursday. "They don't realize that yet, but I do and I thank you. Mr. Wilson said to me when we first met that these are the jobs of the future and that is so true."
Future Ready Institutes are career-themed, small learning academies embedded in traditional high schools. With nearly two dozen already launched, the initiative is one of the most significant of Johnson's administration so far.
Focusing on career themes and industries from criminal justice and health care to hospitality and technology, the institutes are part of a national push to provide K-12 students with more work-based learning opportunities, increase access to career and technical education and prepare them for life after high school.
On Friday, the school district will announce another branded partnership between an organization and two other Future Ready Institutes. The University of Tennessee at Chattanooga will officially partner with the International Baccalaureate academic programs at Signal Mountain Middle/High School and Ooltewah High School.
The partnership will connect students with UTC faculty and allow the university to help them through the university application and admissions process. UTC's School of Education already sponsors the UTC Institute of Teaching and Learning at Tyner Academy, where university education faculty are working to build a pipeline of future teachers at the high school.
Friday's announcement is at 10 a.m. in the University Center at UTC, 642 E. Fifth St. The event will take place in the Chattanooga Room.
Contact Meghan Mangrum at mmangrum@timesfreepress.com or 423-757- 6592. Follow her on Twitter @memangrum.
HAMILTON COUNTY SCHOOLS FUTURE READY INSTITUTES
Brainerd High School* Institute of Aviation* Institute of Entrepreneurship* Institute of Law, First Responders and Forensic ScienceCentral High School* Institute of Advanced Manufacturing and Mechatronics* Institute of Architecture and Engineering DesignEast Hamilton School* Bryan College Institute of Leadership, Business, and Marketing* Institute of Innovate EngineeringEast Ridge High School* Institute of Engineering and Design* Institute of Building Construction* Institute of LeadershipHixson High School* Institute of Integrative Agricultural Sciences and Natural Resources* Institute of Health Careers and Medical Advancement* Institute of Business Leaders and OwnersThe Howard School* Erlanger Institute of Healthcare and Innovation* See Rock City Inc. Institute of Hospitality and Tourism Management* Institute of Robotics and Welding* Institute of Architecture and ConstructionLookout Valley Middle/High School* Institute of Technology and Multimedia* Institute of Automotive Maintenance and ManufacturingOoltewah High School* Institute of Architecture and Engineering Design* Institute of Advanced Manufacturing and Mechatronics* UTC Institute of International Baccalaureate StudiesRed Bank High School* BlueCross Technology AcademySequoyah High School* Institute of Industrial ManufacturingSignal Mountain Middle/High School* UTC Institute of International Baccalaureate StudiesSoddy-Daisy High School* Institute of Media and Entrepreneurship* BlueCross Technology AcademyTyner Academy* EPB Institute of Technology and Networking* UTC Institute of Teaching and Learning* Erlanger Institute of Healthcare and Innovation